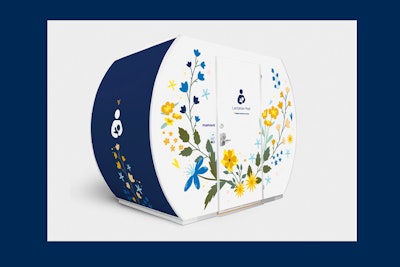 Courtesy of WVUtoday.wvu.edu
West Virginia University announced it has installed a new amenity for nursing parents on Mountaineers' game days.
A WVU Nursing Pod — a transportable lactation suite currently located at the WVU Coliseum's Mountaineer Gate — is the first Mamava pod to be installed in West Virginia. The pod provides a comfortable, private space to parents for nursing or pumping. It will be moved to Milan Puskar Stadium during football season.
WVU employees may use the pod all year.
The Women's Resource Center, Office of the Provost and athletics department unveiled the state-of-the art, freestanding space in early December at the Coliseum. A formal ribbon-cutting ceremony is planned for a future date.
"The Women's Resource Center is thrilled to launch the WVU Nursing Pod for parents to comfortably feed their baby or express breast milk," WRC Director Leslie Tower said in a news release Monday. "For years, the Center has been committed to securing more private rooms across campus to expand the University's Lactation Network, so we greatly appreciate the partnership with WVU Athletics to offer a space for both game-loving patrons and WVU personnel to utilize."
WVU unveils new nursing pod for Coliseum, Milan Puskar Stadium to support on-the-go parents https://t.co/zJ1VnYxLeT

— WVUToday (@wvutoday) December 12, 2022
Powered by the leading lactation support company Mamava, the nursing suite offers high-tech features parents seek for convenience and comfort. From a keyless entry option and trackable vacancy alerts to adjustable lights and fans, an available multiuser hospital-grade Medela pump, and plenty of outlets and USB ports, parents can simply relax and focus on nursing or pumping.
"Given the many events held at the Coliseum, we hope this will enhance the fan experience at our facility for nursing mothers," said April Messerly, senior associate athletics director for capital projects, facilities and event management. "As a mother myself, I know this is a much-needed addition."
The WVU Nursing Pod is the first Mamava pod to be installed in West Virginia.
Those with the Women's Resource Center are working purchase additional lactation pods to install elsewhere on campus in the future.