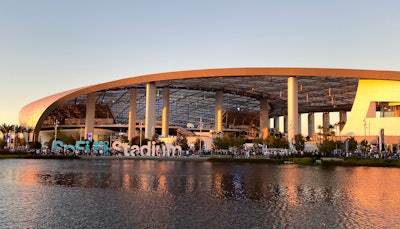 The experience for fans who crowded into a rainy SoFi Stadium for the College National Championship Monday night was reportedly less than ideal.
While the venue has a roof, NBC Sports reported that "there are gaps" and the rain blew sideways, and people got wet.
That may not sound like the worst scenario for a sporting event, but NBC also reported that people slipped on surfaces covered with rainwater. Some were even injured. Videos on social media showed concourse floors with puddles and people being wheeled out on stretchers as workers attempted to mop up the water.
NBC suggested that problems were so egregious that SoFi should immediately order a full study of all surfaces within the multibillion-dollar facility.
"If a new covering is needed to minimize the possibility of slipping and falling, it should be selected and implemented as soon as possible," wrote Mike Florio of NBC Sports. "Beyond the liability and customer-service realities, it's a basic matter of right and wrong."