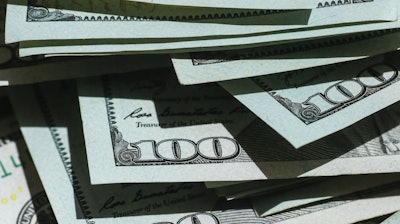 The University of St. Thomas is celebrating a $75 million gift to its athletics department that some at the school say will transform the state of athletics at the school.
The donation from Lee and Penny Anderson is being called a game-changer, as it will allow St. Thomas to multiuse, on-campus arena in St. Paul that will be home to its Division I men's and women's hockey and basketball programs. The new facility, the school hopes, will help in recruiting and all the university to expand its brand beyond the Midwest.
"A one-time gift of $75 million is transformational," Craig Thompson, the former Mountain West Conference commissioner who is one of the most respected leaders in all of college sports, told The Star Tribune.
Designs are still being finalized for the Lee and Penny Anderson Arena, but the historic gift officially kicks off fundraising to raise $131 million for the venue on the university's south campus. Project costs are estimated to be $175 million. Partnering with design-build specialists Ryan Companies US, Inc. and Crawford Architects, St. Thomas aims to break ground on the new facility in 2024, with a target opening of fall 2025.
Aside from hockey and basketball games and hosting special events, the arena is being envisioned as the new home for St. Thomas commencement ceremonies, academic convocations, speakers, career fairs and other events for the university and broader community. The arena will also provide potential opportunities for St. Thomas to partner with local schools, youth sports organizations, nonprofits, businesses and other organizations.
"This is about more than just hockey and basketball games – this is a gift that will be transformative for our entire St. Paul campus, enhance the experience of our students, and raise visibility for the university as a whole," said St. Thomas President Rob Vischer. "It also creates a new community and economic asset for the Twin Cities, the state of Minnesota, and the region."
The $75 million gift surpasses a previous $60 million donation made by the Andersons in 2007 for the construction of the Anderson Student Center, AARC and Anderson Parking Facility. At that time, the gift was the largest-ever single donation made to any university in Minnesota. In addition to being the largest gift in St. Thomas' 138-year history, this latest donation is the ninth-largest known gift to college athletics nationally.