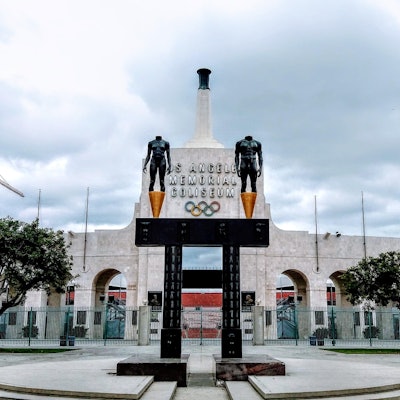 Frequent irrigation of Bermuda grass is only one factor in the total water usage of the Los Angeles Memorial Coliseum, home to University of Southern California football, with drinking water and other plumbing contributing to the drain on resources.
"We all want to be water wise and be cognizant of the resources we are using," Coliseum general manager Joe Furin told Hector Diaz, writing for The New Republic.
Even as 2023 has already featured extreme rain episodes, the past three years have represented the Southwest's driest in a century, according to Diaz, who adds that California and Arizona are ramping up plans to combat drought and climate change in general. In August 2022, California Governor Gavin Newsom presented an $8 billion plan to boost the state's water supply by creating new storage for four million acre-feet of stormwater. Meanwhile, Arizona governor Katie Hobbs announced an initiative that would modernize the state's groundwater supply and close loopholes that have allowed water to be poached.
But how can sports stadium's such as the L.A. Coliseum do their part? Furin said he can work around the USC's football schedule, which kicks off Aug. 26 with three consecutive home games. When the Trojans travel to an away game, the groundskeeping crew lessens its water use.
"It's driven by the weather and usage. If we don't have an event for three weeks, that might be a different maintenance program," Furin said. "Hotter weather would dictate more water. We shuffle according to weather and grass. In a unique way, the consistency of a football season allows us to plan a couple of months out."
As another water-saving measure, Furin and his staff years ago replaced the Bermuda grass behind the goalposts with synthetic turf. "We were spending an awful lot of resources to keep these parts of the field maintained. If you're up above you can't see where the artificial meets the grass."
When it comes to the playing surface within field boundaries, natural grass is still the preference of professional athletes, in particular. As reported by Diaz, San Francisco's Levi's Stadium, Arizona's State Farm Stadium and Denver's Empower Field at Mile High all feature grass. Los Angeles's SoFi Stadium, shared by two NFL teams, is an outlier in its use of synthetic turf. Allegiant Stadium in Las Vegas offers a retractable Bermuda grass field for the NFL's Raiders and a synthetic turf field for college games hosted by UNLV.
But even grass fields can fail, as evidenced by the disastrous performance Sunday of the natural surface at Super Bowl LVII in State Farm Stadium in Glendale.
Related: NFL Facing Criticism for Super Bowl Field Quality
According to Diaz, stadium's can only do so much.
"While any effort to conserve water should be lauded, a sports stadium opting to uproot its sod in favor of an artificial counterpart is symbolic and second to a greater collective action that would save water for millions in the American Southwest," he wrote. "Eighty percent of the Colorado River's water supply, for example, goes to agriculture, and much of that to alfalfa for feeding cattle, including cattle in other countries. Agriculture reform, not sports reform, is the first place to start when looking to solve the growing Southwestern water crisis.
"But football facilities can still have a role to play when it comes to the intractable political problem of Southwestern water negotiations: If America's most popular sport can adjust its techniques to adapt to a new normal, then so can the people attending the games. And that larger action, and the awareness it builds, might lead to a more water-wise future west of the Rocky Mountains."