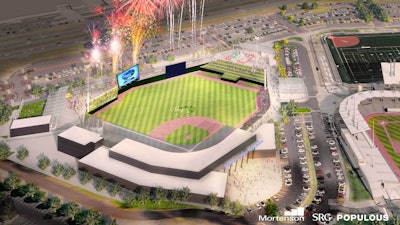 A Minor League Baseball team in Oregon has announced its plans Wednesday to build a new $120 million ballpark for 2025 in order to meet MLB facility standards.
The Hillsboro Hops and City of Hillsboro said Wednesday that the new stadium would be built as a year-round outdoor entertainment venue that could host more than 300 events per year, including Hops home baseball games, concerts, festivals, community events and amateur baseball games.
The design-build team of Mortenson, SRG and Populous will begin the construction process in late summer 2023, with project completion prior to the 2025 Hops baseball season. The facility will accommodate 6,000 people for baseball and up to 7,000 for concerts and other events.
With the Hillsboro Hops promotion to the High-A level, the Hops must now meet updated Major League Baseball facility standards. The City of Hillsboro is partnering with the Hops to support the team in its efforts to meet the new baseball requirements. The ballpark design will address player health and wellness, improve security, elevate the fan experience and enhance home and visiting facilities.
The original intent of the project was to renovate Ron Tonkin Field to meet the new MLB standards. After the completion of preliminary design and analysis, it was determined that it will be more cost effective to design and build a new ballpark, Hops leaders said in a news release.
"The City appreciates the Hops as a partner and recognizes the unique value the organization brings to the community. Creating a more robust regional entertainment destination will provide long term benefits to the City as well as the Hops," Hillsboro City Manager Robby Hammond said in the release.
Funding for the project will be paid for predominantly through private financing secured by the Hops, with a smaller portion of the funding coming from the City of Hillsboro through the Transient Lodging Tax.
The Hops will have full operational control over the new ballpark under a licensing agreement with the city and will be responsible for all ballpark expenses, including utilities and maintenance.
Fan experience and affordable fun will continue to be at the forefront of the new ballpark, according to the release.
"The requirement to meet new MLB facility standards has turned into an opportunity for us to reimagine what kind of venue our region needs and deserves," Hops president and general manager K.L. Wombacher said. "This new ballpark is going to be a generational project that serves as a community gathering place for decades to come."
The City of Hillsboro will retain exclusive ownership and operation of Ron Tonkin Field.