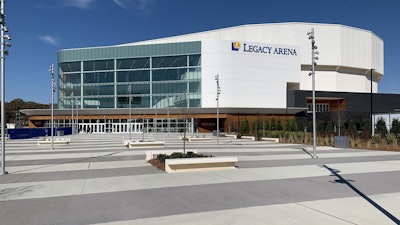 Courtesy of U. of Alabama at Birmingham
It's been 15 years, but NCAA tournament action has returned to Birmingham, Ala.
The more than 17,000-seat Legacy Arena, built in 1976, last hosted March Madness in 2008. That's because Legacy Arena couldn't compete with the newer venues around the country, Birmingham Jefferson Civic Center Authority executive director Tad Snider told WVTM-TV.
"We hit a point in 2008 with our bidding partners where it was just you know, we had to make some investments to keep up," BJCC Executive Director Tad Snider said.
So, 10 years later, BJCC officials announced plans to spend more than $100 million to renovate what is now the Legacy Arena.
Related: Facility Friday: Legacy Arena Reconstruction; Protective Stadium
The upgrades included luxury boxes, floor-to-ceiling windows and improved lighting and seats.
"Our design team consulted with the NCAA ... to be able to compete on a national scale," BJCC board member Jimmie Stephens told WVTM-TV.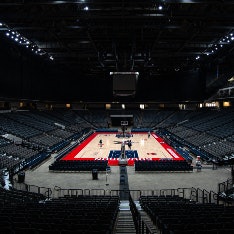 The arena work was funded in conjunction with the construction of the nearby Protective Stadium. The cost to build both facilities topped $600 million.
Birmingham and Jefferson County pitched in a combined $120 million.
UAB, private investors, the BJCC and a variety of tax streams funded the rest.
In the middle of those upgrades, it was announced that the NCAA would play six early-round games this week in Birmingham.