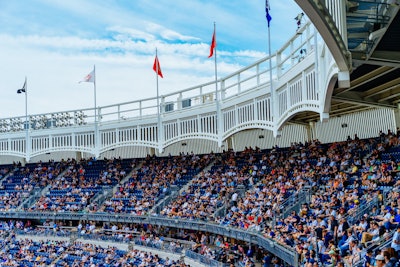 With the start of the Major League Baseball season just days away, here's a sampling of new food items fans will find at the concessions stands in ballparks on opposite coasts.
The New York Yankees will offer all-new Yankee Stadium exclusives such as the Aaron Judge-themed "99 Burger," as well as signature food from celebrity chefs like Bobby Flay, Marcus Samuelsson, Eric Greenspan and Bronx native Christian Petroni, MLB.com reported.
Among the Yankees' new food partners for 2023 are New York classics Fuku and Mac Truck, plus Petroni and his cheesy garlic bread.
Fuku will offer the O.G. Spicy Chicken Sando, a fried chicken sandwich from chef David Chang includes crispy habanero-brined chicken breast, Fuku mayo and pickles on a potato roll. Fuku also present chicken tenders and sweet jalapeno waffle fries with a side of honey mustard or ranch.
Meanwhile, Mac Truck's Classic Mac & Cheese offers elbow macaroni and cheddar cheese from Dom Tesoriero's NYC food truck, Buffalo Chicken Mac & Cheese (classic mac with crispy chicken and buffalo sauce) and Mexican Street Mac (classic mac with charred corn pico de gallo and crushed tortilla chips).
Petroni's Cheesy Garlic Bread involves seeded Bronx bastone bread, mozzarella, Pecorino Romano and Parmigiano Reggiano cheese and Sicilian oregano, served with an eight-hour marinara sauce and optional cupped pepperoni.
Dodger Stadium has a variety of new food products, as well, according to dodgerblue.com.
These include a Philly Cheesesteak featuring sautéed beef and Cheez Whiz on an amoroso roll, the Wild Mushroom Philly with a mushroom blend and provolone cheese on an amoroso roll, and the Philly Chicken featuring sautéed chicken, Kraft mayo, provolone cheese on an amoroso roll
A new Mediterranean Chicken Bowl offers marinated chicken, basmati rice, diced tomatoes, cucumber salad, hummus, tzatziki and shredded red cabbage salad, while the Hot Link Corn Dog consists of a chipotle sausage hand-dipped in corn batter, cheese sauce and hot Cheeto dust.
One new dessert in L.A. takes on a New York flavor. It's called Fried Cheesecake on a Stick — New York Style cheesecake hand-dipped in tempura batter, topped with powdered sugar and raspberry sauce.