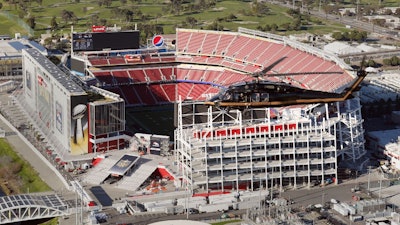 U.S. Customs and Border Protection/Glenn Fawcett via Creative Commons
With an eye on hosting Super Bowl LX in 2026, San Francisco 49ers' CEO Jed York is looking for approval from the NFL for a $120 million loan to improve Levi's Stadium.
CEO Jed York said Tuesday morning that he was "fairly comfortable" the loan would be approved during a vote later in the day at the owners' meetings at the Arizona Biltmore, the San Francisco Chronicle reported. The $120 million funding would be used to upgrade premium seating and scoreboards at the $1.3 billion venue, which opened in July 2014.
"When you spend a lot of money building a new stadium, you watch some of the stadiums that aren't upgraded and it's very easy for them to fall into disrepair," York said, as reported by the Chronicle. "You want to make sure that you're investing and reinvesting in your stadium.The more we can enhance Levi's Stadium, and the more that we can put into the stadium and keep it our home for a long period of time, we're going to continue to do that."
The renovations are expected to be completed before 2026, which is also when World Cup matches will be played at Levi's.
The 49ers also have bid to host Super Bowl 60 in February 2026. York said the NFL could announce in May the sites for Super Bowls 60 and 61.
York said he was optimistic about hosting Super Bowl 60 at Levi's, which was the site for Super Bowl 50.
"I feel fairly confident," York said, as reported by the Chronicle. "I don't know for sure that we're going to get Super Bowl 60, but I feel very confident that we're going to get a Super Bowl in the near future."
York said hosting the Super Bowl and World Cup in the same year would be a great get.
"I think those are two of truly the largest sporting events in the world. Having those back-to-back would be fantastic."