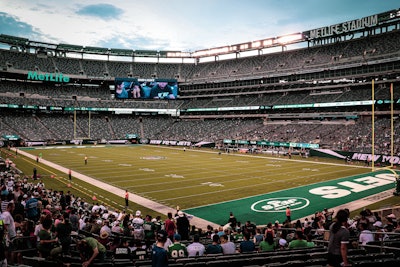 The New York Giants and Jets will play on a new synthetic field this season at MetLife Stadium in East Rutherford, N.J., switching from a slit-film system to a monofilament turf, Giants co-owner John Mara confirmed Tuesday at NFL meetings in Phoenix.
The change has been in the works since last year, following a spate of injuries on the facility's existing surface.
"We had a couple samples out [late in the season'," Mara said Tuesday, as reported by NJ Advance Media. "We had the players walk on it. We met with the players and we finally agreed on a monofilament product. That will go in this year and it will go into the practice facility, as well."
According to the New York Post, recent injuries sustained at MetLife included a season-ending torn ACL for Baltimore cornerback Kyle Fuller during the 2022 season opener against the Jets, Sterling Shepard's season-ending ACL injury on Sept. 27 in a Giants loss to the Cowboys, and torn ACLs for San Francisco's Nick Bosa and Solomon Thomas during an early-season 2020 matchup with the Jets.
Related: Giants Owner Mara to Consult Players Over Turf Replacement at MetLife
The NFL Players Association cited studies of slit-film turf last fall when advocating for a MetLife change.
"The players have been vocal and clear about this issue and it is a good step to hear them that change needs to be made," the NFLPA said in a statement to ESPN at the time the likely replacement was first announced in November. "The change will not come soon enough, though, for players who will be at greater risk the rest of the season. We expect that whatever surface gets installed next year will meet the highest safety and performance standards possible."
As reported by Global Village Space, new synthetic turf at MetLife is not a long-term solution. The stadium will have to install natural grass if it is to host 2026 World Cup soccer matchers, as planned.
"I foresee a day, my hope is we can get to a day at some point in the future when we can have a grass field that we're able to maintain with two different teams and all the other events we have," Mara said Tuesday, as reported by the Post. "I think we can get there at some point, Maybe it's a hybrid product or something."