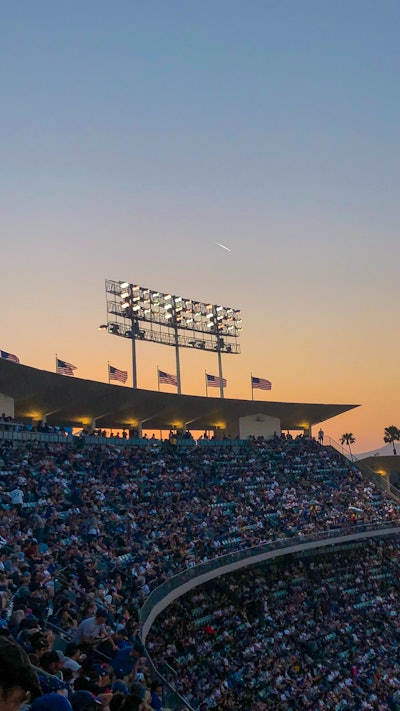 For years, the instant on-off capabilities of LED technology have allowed stadium operators to create lighting effects during games, but the Arizona Diamondbacks felt those in control of Dodger Stadium's new system Thursday during Opening Day in Los Angeles went too far.
As reported by the Los Angeles Times, the lights dimmed and flickered while Arizona's Jake McCarthy fielded a fifth-inning RBI single off the bad of L.A.'s Will Smith, and they flickered again while Diamondbacks relief pitcher Carlos Vargas warmed up for his Major League debut. Vargas complained to home plate umpire Marvin Hudson, who immediately turned to the light operators up above home plate and signaled to return the lights to normal.
"I wasn't too pleased about that," Arizona manager Torey Lovullo said of the lighting distractions. "It's the first game for everybody. Hopefully they figure it out. I'll definitely bring it up with my group here in the front office here and just see what they think about doing. I don't think anything was done maliciously. I just think they hit the wrong button at the wrong time and they need to be better at that."
The lighting system upgrade is the first since Dodger Stadium opened in 1962, according to the Times, and the franchise touted its possibilities during a FanFest in January. "You can watch baseball and go to a nightclub," Dodgers president Stan Kasten said at the time. "It's great. Every night here is fun, but this year is going to be more fun than ever."
After the Dodgers' 8-2 win Thursday, manager Dave Roberts provided his own review. "I loved them," Roberts said. "The lights were amazing. In the middle of a play, we got a little aggressive with the dimmers. But better them than us."
Zac Gallen, who surrendered Smith's single while on the mound the Diamondbacks, wasn't sure what to make of the effects. "Is that like scheduled? Is that a thing that they're doing?" Gallen said, as reported by the Times. "I don't know. I haven't seen that before. I was kind of shocked. I mean, it doesn't seem like it would be something that MLB's going to allow."
"Chalk it up to miscommunication, I guess," Diamondbacks first baseman Christian Walker said, according to the Arizona Republic. "I don't think anybody is that slimy to try to intentionally mess with things. It happens all the time. Sometimes they play music at the wrong time. It's probably just a press box thing."
The Republic cited reports that Dodger Stadium's light fixtures had last been replaced in 2008, and writer Nick Piecoro noted that the "playing field was noticeably brighter than in previous years."