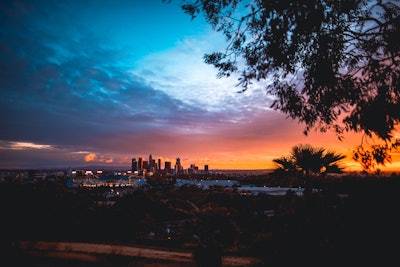 The Los Angeles Dodgers apologized Friday for two ill-timed lighting effects during an 8-2 victory on Opening Day, following post-game complaints Thursday by Arizona Diamondbacks manager Torey Lovullo.
As reported by the Los Angeles Times, Lovullo was satisfied with the apology.
"The light situation, we're going to put it behind us," Lovullo said. "The Dodgers, in a very professional way, came over and apologized to us. I thought some of the comments yesterday — I had a list of texts this long this morning — might have been a little tone deaf. But I think the Dodgers did a great job of trumping that and apologizing. So, we're good."
Related: Dodger Stadium's Flickering LED Lights Annoy Diamondbacks
Thursday was the first time Dodger Stadium hosted a game that mattered with their new LED lighting system. It was the second time since the franchise changed the lights since the stadium opened in 1962, having replaced the original lights in 2007.
Looking to exploit the technology, the Dodgers came equipped Thursday with several light shows throughout the night.
The first to draw Arizona's ire happened in the fifth inning, when Will Smith singled to right field, and the lights then dimmed and flickered while Jake McCarthy fielded the ball and threw it back into the infield.
The second came during the eighth inning, as Diamondbacks reliever Carlos Vargas warmed up on the mound before his major league debut. Arizona catcher Gabriel Moreno had trouble seeing the pitches so home plate umpire Marvin Hudson immediately signaled to have someone turn the lights on.
On Friday, Dodgers president Stan Kasten said the mistakes were "purely human error." He said Major League Baseball did not get involved in the situation.
"I think we're gonna learn what we have before we can really spend time doing more creative things," Kasten said. "But we said that ahead of time. It's going to take a couple of weeks for us to figure out what we can do, what it does, what works for these fans and stuff like that. Pretty straightforward."