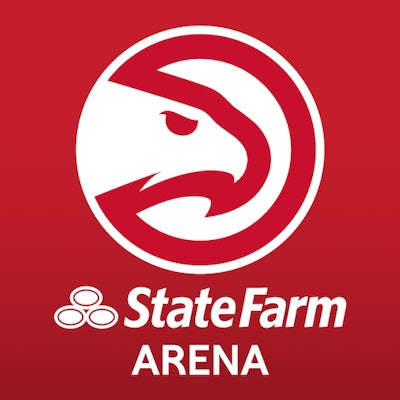 A first-quarter State Farm Arena malfunction Sunday delayed Game 4 of the playoff series between the Atlanta Hawks and Boston Celtics.
With Boston holding an 11-point lead near the end of the opening period, officials whistled play to stop due to confetti falling onto the court. As reported by The Sporting News, what began as a few scattered pieces turned into a steadier stream of falling paper, creating a possible player safety hazard.
TNT play-by-play man Ian Eagle described the situation as a "legitimate confetti issue," TSN reported.
Players and officials waited as arena staff members scrambled to clean the court and try and find the source of the confetti shower. After a short delay, the first quarter was allowed to conclude.
The scene evoked memories of an infamous incident in Philadelphia in 2018 that also involved the Celtics.
"During Game 3 of a second-round playoff series between Philly and Boston, 76ers guard Marco Belinelli hit a clutch shot as time expired. The crowd erupted and the confetti cannons were detonated as if the Sixers had just won the game. The only problem was, they hadn't," wrote Sam Jarden of TSN. "Belinelli's shot was ruled a two-pointer instead of a three-pointer, meaning the game was tied and headed to overtime. It took seven minutes to clear all of the paper scraps off the court before play could resume, and the Sixers ended up losing in heartbreaking fashion to fall to a 3-0 series deficit. They ultimately lost the series in five games."
Boston won Sunday's game in Atlanta, 129-121, to take a 3-1 series lead.