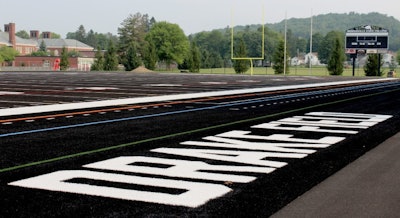 With record high temperatures affecting much of the country and phrases such as "heat dome" entering the daily lexicon, one Division III school has unveiled a football field featuring black synthetic turf.
The State University of New York Morrisville, which is located about 30 miles southeast of Syracuse, showed off its newly installed field Tuesday.
It represents the first change in turf at Drake Field since 2006, and what many believe to the first field of its color anywhere.
As reported by Sports Illustrated, SUNY Morrisville joins six other NCAA programs to have a nontraditional field color: Boise State's iconic blue field at Albertsons Stadium, Coastal Carolina's teal surface at Brooks Stadium, Eastern Michigan's gray surface at Rynearson Stadium, Central Arkansas' purple and grey field at Estes Stadium, Eastern Washington's red surface at Roos Field, Division II New Haven's blue surface at Ralph F. DellaCamera Stadium and Division III Luther College's blue surface at Carlson Stadium.
"As we set out to replace our old turf, we wanted to move in a bold, new direction that would give our department and student-athletes a unique identity to rally around," SUNY Morrisville director of athletics Matt Grawrock said in a statement.
Discussions of replacing the old, green turf began in 2022, according to the university. The installation of the black turf started in May and wrapped up earlier this month.
In addition to the traditional markings for football, the black turf includes red lines for men's lacrosse, powder blue markings for women's lacrosse, lime green for soccer and yellow designations for field hockey.
But it's the black part that may give pause to heat-illness experts and casual onlookers alike. Synthetic turf already generates more surface heat than natural grass, by 20 to 50 degrees, and a black surface exposed to the sun, such as asphalt, can be 40 to 60 degrees hotter than the ambient air temperature. How athletes adapt to and perform on a black synthetic surface remains to be seen.
Still, when it came to deciding on black turf, Grawrock was happy to give the Mustangs something one of a kind, according to Max Molski of NBC Sports. The school even shared on its athletics website an ESPN SportCenter Instagram post that features "This Is Different" with a flame icon, and some rather scorching reviews by readers.
"Many people may ask why we've put a black field out there," Grawrock said, as reported by NBC Sports. "We've asked, why not?"