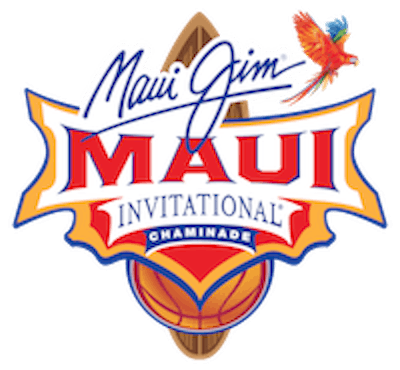 Coaches and players from across basketball are sending well wishes to those on the island of Maui, where the annual Maui Invitational basketball tournament takes place at Lahaina Civic Center.
"It's just awful. I feel so terrible for everyone affected," Ohio State men's basketball coach, Chris Holtmann, told The Sporting News.
The Lahaina Civic Center, which sits on a hill above the water, had to be evacuated during the fire.
While there are undoubtedly more important things for residents of the island to worry about in the wake of the fires — as of Friday morning 55 people been reported dead in the fires — the Maui Invitational released a statement saying the organization is "actively monitoring the wildfire situation on Maui. Our main concern right now is the safety and well-being of our Maui 'Ohana and the first responders that we know are doing everything in their power to keep the island safe."
The Kansas Jayhawks, who enter the season as the Nation's No. 1 team, and are to be the top draw at this year's invitational, released a statement saying the team is "heartbroken for the great people of Maui and the town of Lahaina."
ESPN basketball analyst Jay Bilas, who has been calling the Maui Invitational for years, is also saddened by the fires.
"The tragedy on Maui is unimaginable. The loss of life, and the devastation of Lahaina, is beyond heartbreaking," Bilas told TSN. "My colleagues and I spent countless hours at the Lahaina Civic Center, Lahainaluna High School and Lahaina itself for so many magical years.
"For anyone that has ever spent time on Maui with its wonderful people, there is an overwhelming feeling of sadness and loss."
The Wisconsin Badgers Men's Basketball team is sending its thoughts to all of the people in Lahaina as the team has played in the Maui Invitational on the island in years past.
"I hope that that community gets back on its feet as soon as possible," Wisconsin athletics director of communications Patrick Herb said.
President Biden has declared a "major disaster" in Hawaii on Thursday and ordered federal aid to the areas affected. According to authorities, the Lahaina Civic Center is still standing, but more than 1,000 structures have been damaged or destroyed, leaving Lahaina, a town of 12,000 residents, in ruins.
Whether the tournament is held on the island this year remains to be seen. Moving it to the mainland is not without precedent, as it was held in Asheville, N.C., in November 2020 to make travel less daunting during the COVID-19 pandemic. It returned last season to Lahaina.
The tournament, which is sponsored by Maui Jim, is scheduled to take place Nov. 20-22 at Lahaina Civic Center.