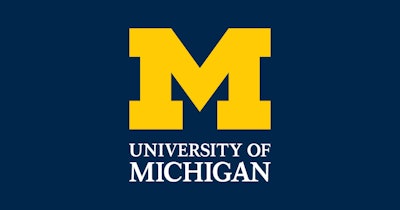 Michigan Athletics is set to unveil a state-of-the-art LED lighting system at Michigan Stadium, which has been custom designed to improve on-field lighting and visibility, reduce energy consumption, and enhance the overall experience for players and fans.
The LED lighting upgrade replaces the previous HID lights at the Big House, which were installed in 2010 after the addition of new towers on the East and West sides of the stadium. Prior to 2010, Michigan utilized temporary lighting set up in the stadium's concourse.
"Replacing the original lighting system, which had been in place for well over a decade, with the latest LED technology is an important upgrade to Michigan Stadium," said Paul Dunlop, associate athletic director for Facility Operations at the University of Michigan, according to a post on UM's website. "The new lighting system will use less energy and provide outstanding light coverage for fans in the stadium and those watching at home on TV."
The new system was custom designed by Musco Lighting and features the company's TLC for LED® technology, with patented light control capabilities that achieve exceptional uniformity across the field and lower bowl, without creating glare that could negatively impact players and spectators.
In addition to a better playing and viewing experience for those in the stadium, the whiter and cleaner LED lighting also will enhance the broadcast quality for millions of fans watching around the world, creating a greater stage-like television atmosphere and allowing colors to pop throughout the venue.
The new LED system also features Musco's Show-Light Pro Venue® special effects technology. This will allow for the creation of customized light shows at the Big House, with color-changing fixtures and light-to-music synchronization for a world-class audio/visual entertainment experience.
"Adding the new Musco lighting system provides us with an additional tool to enhance the gameday atmosphere at Michigan Stadium," said Jake Stocker, Director of Game Presentation & Fan Experience at the University of Michigan. "The ability to use special effects lighting in conjunction with video board content, key game moments, and special performances will create a unique and memorable experience for Michigan football fans of all ages."
While light levels on the field will increase with the new system in place, one thing that will decrease at Michigan Stadium is energy consumption. In fact, project leaders expect the new LED lighting system to reduce energy consumption by 31 percent compared to the stadium's previous HID lights.
Michigan Stadium joins other iconic collegiate venues that feature custom LED systems from Musco, including Notre Dame Stadium, USC's Los Angeles Memorial Coliseum, and Alabama's Bryant-Denny Stadium, among others.
"The Big House is a setting unlike any other in the world of college football," said Jeff Rogers, President of Musco. "Michigan is a long-time partner of Musco's, dating back to the early 1980s when we first started providing temporary lighting at Michigan Stadium. They have a great team that's always been excellent to work with, and we couldn't be more proud to have teamed with them again on this LED upgrade. We're confident that the players and fans are going to love it."