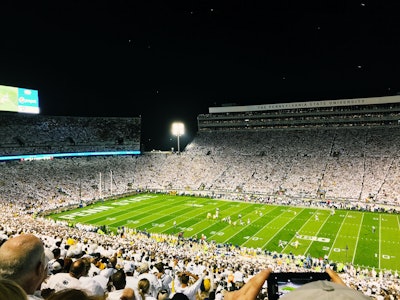 Alex Korolkoff, Unsplash
The Congressional Historic Stadium Caucus launched Friday has identified 18 historic college football stadiums for preservation and modernization, including some of the oldest, most-legendary venues in the nation.
As reported by CBS Sports, U.S. representatives Garret Graves (R-Louisiana) and Mark Pocan (D-Wisconsin) made the announcement as co-chairs stating that they wish to protect "the integrity of these treasured venues … while enhancing their capabilities." Enhancements will include security, technology and infrastructure.
"The intended upgrades come at time when, in the next five years, some of the stadiums could be hosting College Football Playoff games," Dennis Dodd of CBS Sports wrote. "In the case of the Rose Bowl and Los Angeles Coliseum, they will also host the 2028 Summer Olympics."
The CFP will expand to a 12-team field beginning in 2024. Conceivably, 15 of the 18 stadiums -- home of FBS schools -- could host first-round playoff games. In 2028, the L.A. Coliseum and Rose Bowl will become the first venues to host three Olympic Games. The Coliseum underwent a $300 million renovation from 2017-19 as part of an upgrade for USC football. Several other venues have undergone improvements over the years, Dodd reported.
The stadiums and their affiliated universities on the caucus list include:
Beaver Stadium (Penn State)
Camp Randall Stadium (Wisconsin)
Cotton Bowl
Davis Wade Stadium (Mississippi State)
Franklin Field (Penn)
Husky Stadium (Washington)
Jordan-Hare Stadium (Auburn)
Los Angeles Coliseum (USC)
Memorial Stadium (California)
Memorial Stadium (Illinois)
Memorial Stadium (South Carolina)
Nippert Stadium (Cincinnati)
Rose Bowl (UCLA)
Spartan Stadium (San Jose State)
Tiger Stadium (LSU)
Vaught-Hemingway Stadium (Ole Miss)
Wallace Wade Stadium (Duke)
Yale Bowl (Yale)
"When Tiger fans walk into Death Valley on Saturday nights, they do more than watch a football game," Graves said. "They walk into a 99-year-old local icon that supports our regional economy. Every bowl of jambalaya scooped and Tiger Dog served injects jobs and resources into our community."
According to Dodd's report, the representatives plan to circulate a "Dear Colleague" letter asking other Congressional members to join the caucus.
"Historic stadiums like the Rose Bowl have been the backbone of American sports and entertainment for over a century," said Jens Weiden, general manager and CEO of the Rose Bowl Stadium. "But their viability and continued operations are in jeopardy with the evolving landscape and expectations of modern-day sports and entertainment."