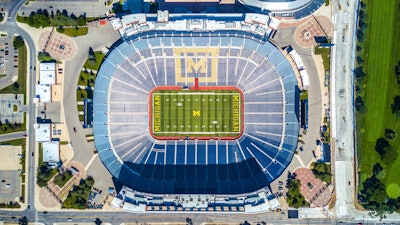 From goosebumps on a University of Michigan defensive lineman to kudos from the visiting team, the debut Saturday night of Michigan Stadium's state-of-the-art LED lighting system was a sparkling success.
As reported by MLive.com the system replaced HID system installed in 2010.
Across the top of the stadium along each sideline, lights turned white and then flashed maize and blue after Michigan scored en route to a 31-6 victory. "While the new lights are brighter than the previous lights, at times they deployed to make the Big House darker than normal," wrote MLive's Andrew Kahn.
Log in to view the full article