Sports Offer the Most Appealing Avenue Through Which To Market Vision-Performance Products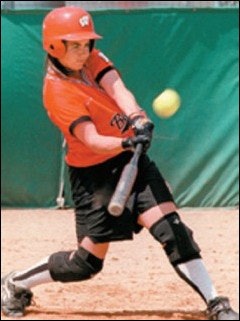 Great athletes possess extraordinary vision. Ted Williams could hit a pitched baseball and tell where in relation to its seams his bat had made contact. Wayne Gretzky's exceptional peripheral vision allowed him to see potential hockey plays unfolding quicker than most players on the ice around him. Neither hall-of-famer was particularly gifted physically, but their eyes - and their eye-hand-body coordination - were the stuff of legend.
While athletes have long trained muscles to become stronger and more responsive - in essence trying to improve upon genetics - several companies have emerged since the 1980s with tools and techniques to improve eye performance in settings both academic (addressing reading disorders, for example) and athletic. These approaches range from electronic biofeedback machines to wooden beads on strings. Each are said to be able to improve an athlete's vision in a number of ways, including visual acuity (clearly seeing projectiles and other bodies in motion), eye tracking (visually following bodies in motion), eye focusing (adjusting vision quickly between varying distances), depth perception (judging distances and speeds of bodies in motion) and peripheral vision (awareness of bodies not directly in focus).
Clearly, sports offer the most appealing avenue through which to market these products (a Google keyword search for "sports vision" turns up several), and each seems to have its own stable of endorsers (one company claims Major League Baseball's Milwaukee Brewers among its clients, while another claims the Brewers' entire minor league system - though one wonders why, in either case). Success stories often draw from the ranks of the retired (Don Mattingly, Jimmy Connors) or the relatively obscure (Doug Jennings, Hensley "Bam Bam" Muellens).
The concept of vision training received its most visible ink to date when Sports Illustrated's 2002 Baseball Preview chronicled the ritual of Seattle Mariners designated hitter Edgar Martinez, which involves at least 50 minutes of daily exercises for the eyes. Among other things, Martinez tries to read the numbers printed on tennis balls as they are fired at him.
Some of the most practical advice comes from the American Optometric Association (www.aoanet.org/conditions/sports_vision.asp) - assuming, that is, the athlete still owns a stereo turntable. One exercise for dynamic visual acuity involves cutting different-size letters from a magazine, scattering them on the turntable and trying to identify the letters from arm's length as they spin at 33, 45 and 78 rpm. Once it seems easy, the athlete substitutes smaller letters. Another, for eye tracking, has the athlete balance a book on his or her head while following the movement of a softball rolling around the perimeter of an upside-down Frisbee. As skills improve, the softball gives way to a baseball, then a golf ball.
Will such techniques become as commonplace as batting practice, bench presses and, apparently, pill popping? After all, physical prowess won't be much help to the outfielder who can't judge a fly ball or recognize a curve, or to the quarterback who fails to sense the blindside rush of a linebacker. We'll just have to wait and see.