Using waivers of liability can help protect the financial integrity of university recreational and intramural programs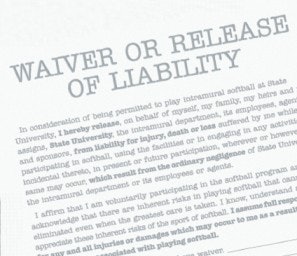 Tracey Spiegler, 21, a full-time University of Arizona student diagnosed with hypertrophic cardiomyopathy, was exercising on a stationary bike at the student recreation center when she suffered cardiac arrest. A staff member in charge called 911 but failed to perform CPR. Spiegler turned blue and stopped breathing, and her pulse stopped. She remained in a coma for a day and a half, and suffered brain damage.
Spiegler later sued, alleging negligence on the part of the university. (See Spiegler v. State of Arizona [Cause No. CV 92-13608, Maricopa County Superior Court].) An expert witness testified that the staff was inadequately trained and that emergency care was below the standard of ordinary care. Jurors awarded Spiegler a total of $5 million plus another $100,000 to her mother for loss of consortium.
No waiver had been signed by Spiegler relieving the university of liability for negligence. Could the university have gained protection and avoided a $5 million loss by requiring students participating in recreational programs to sign a waiver, assuming it was well-written?
Probably so. While waiver law varies greatly from state to state, in at least 44 states, a well-written waiver, voluntarily signed by an adult, will protect the service provider from liability for injuries resulting from the negligence of the service provider.
Yet, a question asked by many administrators is whether waivers will function as intended in a school or university setting. Waivers designed to limit the legal redress of students are often challenged, often on the basis that the waiver violates public policy. For example, a school board policy that requires all students taking required physical education classes to sign waivers of liability might not be in the best interest of the public as a whole, since schools might not be as motivated to provide a safe environment. Waivers are also challenged by those claiming students have an unequal bargaining position. In other words, students would have no choice but to sign a mandated waiver for a course they were required to take.
Some schools have used waivers for required activities, such as mandatory physical education classes - for example, in an introductory Foundations of Physical Education class that is required of all freshmen students. As a general rule, however, if the activity is required, waivers relieving the school of liability for injuries due to negligence are not upheld.
Whittington v. Sowela Technical Institute (858 So.2d 236 [5th Circuit, La., 1983]) was a significant case relating to this issue. A senior nursing class was required to go on a field trip for which a signed waiver was required - and no alternative classes were available. The court stated that such a waiver was in violation of public policy since it was not truly voluntary.
Another court, however (Thompson v. Otterbein College, 1996 Ohio App. LEXIS 389), found that a similar waiver signed by a college student prior to taking a course in horseback riding to satisfy a physical education requirement was not unconscionable and did not violate public policy. The difference was that the student chose to take this course when other physical education courses requiring no waiver were available. "The situation might be different," the court stated, "had the school required all students to sign waivers of liability for all physical education courses." Despite this, the court did not uphold the waiver as it was not clearly written.
Typically, waivers for non-required school activities (elective classes and voluntary intramural activities) are upheld and protect the service provider. Consider three cases:
• Boyce v. West (862 P.2d 592 [Wash., 1993]). Boyce, a college student enrolled in a scuba class offered as a physical education elective, signed a release exculpating Gonzaga University from liability for injury due to negligence, and died during a dive. A wrongful-death suit claiming public-policy violation was filed.
In upholding the waiver, the court found no public interest in a private school offering scuba instruction as an elective course. The court relied upon a similar case involving a student who died during a YMCA scuba class (Madison v. Superior Court, 250 Cal.Rptr. 299 [Cal.App. 2 Dist., 1988]), where the court had declared that scuba diving does not involve a public duty.
• After a community college student drowned while taking a scuba course, his wife filed suit against the college and the instructor (Scroggs v. Coast Community College Dist., 239 Cal.Rptr. 916 [Cal., 1987]).
The student had signed a statement that waived any claims he or his "heirs, representative, executors and administrators thereof...have or may have against the said The Coast Community Colleges [sic] or any or all of the above mentioned persons...by reason of any accidents, illness, injury or death, or other consequences arising or resulting directly or indirectly from participation in SCUBA diving under the auspices of the Coast Community Colleges occurring during said participation, or any time subsequent thereto." (Italics added.)
The court determined that a pre-injury waiver of liability would normally be enforceable, but that the language in the particular waiver was so vague as to offer no protection from liability for negligence.
• In a 1996 case (Terry v. Indiana State University, 666 N.E.2d 87) a university student was injured during a motorcycle training course. Terry claimed unfair bargaining power, alleging that the course was required for licensing and that the university owed a statutory duty. She also alleged that the contract was of public interest, thereby making the waiver illegal.
The court ruled that the waiver was not against public policy because courses were not required for licensing, ISU was not required to accept all applicants and there was no evidence that ISU held a monopoly in training.
There is a case, Kyriazis v. University of West Virginia (450 S.E.2d 649 [1994]), that runs counter to the general rule and might spell trouble in the future for those relying on waivers in intramural programs.
Jeffrey Kyriazis, a sophomore rugby club player, was required to sign a waiver relieving the university of liability for injuries that might be incurred. The team practiced three times weekly for a period of six to eight weeks leading up to the season. In the first match, Kyriazis became dizzy, left the game, and was later found to have a thrombosis. He sued for more than $100,000 alleging negligence by the university.
The university claimed that the waiver signed by Kyriazis served as a complete bar to his monetary recovery. Kyriazis maintained that such a waiver required by a state university was against public policy, and alleged that the waiver violated his equal protection right guaranteed by the Constitution.
On the public policy issue, the West Virginia Supreme Court reasoned that athletics are an integral and important element of the education mission at the university; the physical welfare of students cannot be ignored; the provision of recreational activities to students fulfills the educational mission and performs a public service; and as an institution charged with a duty of public service, the university owes a duty of care to its students when it encourages them to participate in any sport.
In examining the waiver, the court pointed out that the Code of Student Rights and Responsibilities of the university requires that students follow instructions of the administration. Further, the waiver was prepared by a lawyer and the student had no benefit of counsel. If Kyriazis wished to play rugby at the university, he had no choice but to sign the waiver.
In spite of the fact that participation was voluntary, the court concluded that the university qualified as a public service and possessed a decisive bargaining position at the time of signing.
But the case also illustrates another important limitation of waivers applicable to state-supported institutions. Kyriazis claimed that the university allowed students to participate in both intramural sports and club sports, but that only participants on club sports teams were required to sign a waiver. The court found no rational basis for a policy of treating intramural and club sports participants differently, and thus ruled that the waiver was in violation of the equal-protection guarantee.
As it runs counter to the general rule, this decision could have a significant impact on intramural programs in state universities if courts in other states elect to follow this precedent.
Directors of recreation programs have several waiver format options. Generally, sports-applicable waivers appear in stand-alone waiver form, a paragraph or two within some other document or a paragraph or two at the top of some sort of sign-up sheet. (No disclaimer on the back of a ticket has yet met the requirements of a contract and protected a service provider from liability.)
The two waivers most frequently used by intramural and recreation programs are stand-alone waivers and those appearing on sign-up sheets. The former are the most detailed and comprehensive, and as such are recommended in most cases. (For a detailed discussion of stand-alone waivers, see "Before the Fall," May 1996, p. 29.)
Waivers in the shorter format obviously do not include sufficient space to include all of the points suggested in that earlier article. There are, however, certain points that must be included to ensure that any waiver will protect the service provider if it is challenged in court.
The decisions in Thompson and Scroggs emphasize the need for care in the development of even short-form waivers. The following four areas are vital:
• The appearance of the waiver. Use a descriptive title such as Waiver and Release of Liability. Be certain the print size can be easily read (10- or 12-point type) and make the key language conspicuous (through bolding, upper case, color or underlining). Be certain that the waiver is always visible at the top of the sign-up sheet and refer to the waiver adjacent to each signature blank.
• The legality of the waiver. Certain legal precautions are necessary to consider. A phrase such as, "In consideration of my participation, I agree to release..." should be included. Avoid any untrue or fraudulent statements in the waiver. Finally, the duration of the waiver should be specified by use of some phrase such as, "now and forever" or "throughout the season."
• The clarity of the agreement. The single most important requirement is that the waiver be clear and understandable so the intent of the parties to absolve the service provider from liability for negligence is not ambiguous. The waiver should include a phrase such as "I hereby release...from any and all present and future claims resulting from ordinary negligence on the part of..." Refer specifically to the "ordinary negligence" of the service provider or its employees. Be certain to specify which parties are relinquishing rights and which parties are protected by the waiver.
• Notification to the signer of inherent risks. Have the signer acknowledge the fact that the signer knows of, understands and appreciates the risks that are inherent to the activity. Clearly describe the nature of the activity and clearly inform the signer of the inherent risks involved in the activity. (This is particularly important if the activity is an uncommon activity or if there is reason to believe that participants would not already be familiar with the activity and its risks.) Have the signer affirm voluntary participation and the assumption of the inherent risks of the activity.
While it is presented for educational purposes only and carries with it no guarantee or warranty of effectiveness in protecting any service provider from liability of any sort, the brief waiver shown at the beginning of this article should help in the development of an effective waiver for university intramural and recreational programs. It is suggested that the institution's attorney examine and finalize any waiver used in a recreational program.
Using waivers of liability can help protect the financial integrity of university recreational and intramural programs. However, as discussed, there are exceptions to this rule. Even well-written waivers are not upheld in the courts of a few states, and waivers relieving schools of liability for injuries due to negligence in required activities are generally not upheld.
Still, intramural directors and other administrators involved with student activities should rely on waivers for financial protection - with some caveats. Learn all you can about waivers, and realize their limitations. Be certain your waiver adheres to the guidelines discussed. And most important, institute a complete risk-management plan that includes risk reduction techniques, insurance and other protective techniques.
---
Doyice J. Cotten is an emeritus professor of sport management at Georgia Southern University and principal of Sport Risk Consulting, 403 Brannen Drive, Statesboro, GA 30458, 912/764-4848.