The Internet was supposed to revolutionize the purchasing process. But not everybody wants a piece of the action.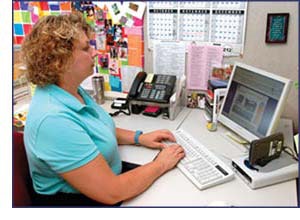 Julie Terstriep isn't the kind of person who gets intimidated by technology. The business manager for Western Illinois University's campus recreation department had been using the Internet as a personal shopping mall for at least a decade before she convinced WIU officials that purchasing equipment and supplies online would save the university time and money. "I'm definitely a risk taker when it comes to technology," she says. "I love the abilities that technology gives us, and if somebody says to me, 'Well, I don't know if we can do this,' I'm always bound and determined to find a way we can, because it's going to be faster, easier and more efficient."
And that's exactly what the purchasing process at WIU has become. For three years now, recreation administrators have bought everything from programming equipment to replacement parts via the Internet, although any items costing more than $1,500 must be bid out because of the university's status as a state entity. A dozen staff members (including the head groundskeeper and the secretary) have their own department credit card and a list of authorized items that can be purchased online. They also are encouraged to use the Internet to research potential purchases, even if they don't wind up buying online.
"We're in a really rural area," Terstriep says about WIU's Macomb location. "The population of the whole county is about 30,000, and we're 90 minutes away from a metropolitan area. So in our case, we use the web like somebody who might go out to Home Depot or a sporting goods store. It would take time away from work to go look for what we want, comparison shop and then come back."
WIU campus rec officials are part of a segment of athletic, fitness and recreation professionals that is embracing e-commerce. But there's another segment that prefers to conduct business the way it has always been conducted. "I still like being able to talk with a human being," says George Cwik, athletic equipment manager at William Rainey Harper College in Palatine, Ill. "Call me old-fashioned."
According to a survey taken in June, the online purchasing habits of 298 Athletic Business readers who are purchasing directors or equipment managers for high schools, college recreation centers and athletic departments, health clubs, park and recreation agencies and youth sports organizations run the gamut. Most of them also believe that, despite its promise, e-commerce still has plenty of shortcomings.
AB's findings reflect those of small-business owners nationally, who say they value the Internet more for its research advantages than its purchasing conveniences. A recent survey commissioned by BuyerZone.com, an independent Watertown, Mass.-based online service for companies seeking purchasing guidance in more than 100 business product and service categories, revealed that 93 percent of small-business owners find the web valuable for researching items, locating vendors and comparing prices. However, only 7 percent consider the ability to buy online the most important benefit of e-commerce.
In an age when online sales of books, music, electronics, clothing, furniture, sporting goods, toys and other consumer goods have boosted quarterly revenues for both the Internet superstore Amazon.com and the online auction site eBay past the $1 billion mark, why do most business operators prefer to use the web during the initial shopping phase but then still make the actual purchase from a traditional vendor? It's a buying approach that BuyerZone.com president and chief executive officer Sam Zales calls "clicks to bricks."
"There's no question the Internet has made travel and PC purchases more available and effective through e-commerce," Zales says. "But nobody really clicks to purchase high-value products and services. Many businesses today feel they need to be smarter about the purchases they're making. They need to make sure they've found the best features and are getting the best price. So they're going online to research and then negotiating and making the purchase offline."
Back in 1994, when two faculty members at Indiana University's Department of Recreation and Park Administration conducted a survey of 200 college recreation facility administrators, nearly half of those responding reported that their departments did not own a single desktop computer. In 1998, when the same administrators were surveyed again, only three admitted having a department unequipped with even one computer. Today, it's a safe bet those three administrators have either been fired or gotten wired.
Indeed, computer advancements are so pervasive in today's consumer and business worlds that the 2005 Electronic Retailing Association's Buyers Study, conducted this spring, reveals the average number of purchases among online buyers climbed from 8.5 per person to 12 in one year. And it's expected to keep on climbing, ERA officials say.Tempering that news, however, is a national report released in mid-June that indicates nearly half of all Americans, fearing their personal information will be stolen, avoid shopping on the Internet. The Washington, D.C.-based National Cyber Security Alliance, a trade group that commissioned the survey and has urged the White House to pay more attention to Internet security, also reports that more than 90 percent of respondents worry about identity theft and spyware (a generic term for programs that surreptitiously monitor the actions of computer users).
"One of the main findings in that research is that consumers are taking notice of all these security threats and attacks," Avivah Litan, vice president and research director at Gartner Inc., a Stamford, Conn.-based provider of research and analysis for the global IT industry, told MSNBC technology correspondent Bob Sullivan. "They are having a direct adverse effect on e-commerce. In the end, the security breaches will slow down e-commerce growth." (The NCSA web site, stay safeonline.info, offers small businesses a self-guided cyber security test, tips for safeguarding their systems and other educational resources.)
Oddly enough, security concerns barely registered with respondents to the AB survey, as only a handful cited the risk of stolen information as a factor in their online purchasing decisions. "Anytime I'm giving out my credit card information over the web, that's serious business," says Cara Scott-McCron, recreation and equipment services coordinator for Ryerson Univer- sity Sports and Recreation in Toronto. "It's the school's purchasing card, and I guard it with my life. If something bad happens with that card, that's my reputation."
"Security is probably more of an awareness than a concern for us," says Ryan Richards, director of operations for Wisconsin Sports Development, a sporting-events management company. He uses the web to order everything from buoys for triathlon competitions to hand warmers for winter sports. "We also do a lot of online registration, so we're aware of how other people might be wary of Internet security. Some people still won't even pay with a credit card via mail-in registrations. But other people are becoming more attuned to looking for security certificates on web sites and more aware of how to make sure the web site they're using is secure as a purchasing point."
Other obstacles to e-commerce growth include the absence of personal interaction in the buying process. "We usually purchase locally from vendors who bring things in to show us, or have a demonstration done," says Dan Zubiena, equipment manager for the Calumet (Mich.) Hockey Association, who claims he never uses the Internet to purchase items for the association. "There isn't the personal touch of a salesperson."
"Some people are willing to bypass the relationship aspect of low-end purchases," Zales says. "It's cheaper and it's more efficient. Plus, you'll find companies quicker and reach out to vendors across the country, not just in your local area. On the higher-end products, since they are customized sales, people are still going to think, 'I've got to talk to that vendor.' That's why the clicks-to-bricks model works."
Among the online services that athletic, fitness and recreation facility operators say they desperately need are ones similar to those offered by sites like Amazon.com and BestBuy.com, which provide price and product comparisons. At least two companies have tried, with varying degrees of success, to alter the online purchasing process for industry professionals by matching buyers and sellers. A facility operator, for example, would put his or her needs out to bid, and suppliers would respond, with the lowest bid typically getting the buyer's business. While that concept may help save some facility operators time and money, it also alienates vendors unable to provide the lowest-priced products, for whatever reason, Zales says.
"The request-for-quote model tries to force people to purchase online through an anonymous bidding process," he says, adding that similar companies in other industries have failed following that model. "I think that only works well in commoditized markets like travel and PCs, when you can compare airline flights from one place to another, or PCs with features X, Y and Z right next to each other. When it's something of higher value, people still want a different process."
One sure sign that the Internet will have succeeded in changing the way organizations of all kinds do business is when manufacturers find themselves distributing fewer unsolicited catalogs than they have in the past. "If we're buying something that involves color, we'll use a catalog," Terstriep says, referring to staff and participant apparel. "If you're looking online, the color is not always true because of the grade of the monitor. The catalog shows what the true color is. Otherwise, catalogs have a tendency to sit in a drawer. If I were on the other side doing the marketing, I would try to find a way to make catalog information more dynamic and provide it on the web or on a CD. Our office spaces are very small. We already have tons of files of things we're required to have, so a 400-page catalog is probably going to go somewhere in a storage room. Maybe we'll remember we have it, or maybe we won't."
"Companies have to view their web sites as a salesperson interacting with a customer. I think a lot of companies just put up a web site for the sake of putting up a web site," adds Scott-McCron, who would like to see some manufacturers' sites updated more often with a greater number of photographs and easier navigation options. "I usually dispense immediately with the sites that aren't user-friendly. I don't have time for a site that says 'Give us a call.' That's more like a business card, isn't it? They want us to take online purchasing seriously? Then they should take it seriously."
Just as manufacturers may need to change their e-commerce mind-set, some purchasing entities are also rethinking their approaches. In Virginia, for example, disparate systems used by state agencies to purchase goods and services hindered the government's ability to get the best value for its money. Recognizing the need for a more efficient approach, Virginia's Department of General Services rolled out eVa in 2001.
The web-based procurement solution allows state agencies, local governments, and colleges and universities to share information and open bidding to a broader spectrum of vendors. Department officials say that eVa has increased competition and fostered more effective negotiations -- statements backed up by Virginia's consistently high ranking in the Folsom, Calif.-based Center for Digital Government's biennial Digital States Survey, which examines practices, policies and progress made by state governments in their use of digital technologies to streamline operations and better serve citizens. Other states ranking high in the 2004 survey include Michigan, Washington, Indiana and Arizona.
Regardless of the advancements made on both sides of the e-commerce equation, experts agree that there will always remain a segment of the population (facility operators included) that doesn't use the Internet -- preferring to actually look at and touch products before purchasing them, speak with an actual human being and finalize a transaction using the time-honored tradition of physically exchanging payment.
But that doesn't mean those buyers should avoid the web. "It used to be so hard to get information, because you didn't know if you were getting accurate information, and you didn't know if you were getting complete information," Zales says. "Now you save all that time you used to spend crawling through the Yellow Pages or talking with a consultant."
And for those people, like Terstriep, willing to embrace new advances, the web is likely to become an even more valuable tool. "I think you will find more commoditization of lower-value, easy-to-compare items," Zales predicts. "More and more people will eventually say, 'The biggest value is buying online, because I can actually research and purchase on the Internet.' "