Turning a corner after a decade of existence, Major League Soccer now rests its hopes on the anticipated success of soccer-specific stadiums.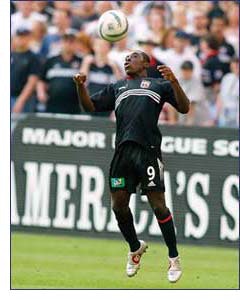 When Major League Soccer's newest stadium, Pizza Hut Park, premiered on Aug. 6 in Frisco, Texas, it did so to little fanfare -- which is exactly the way Greg Elliott, president and general manager of FC Dallas, the stadium's home team, wanted it. "It'll be a fairly tight ceremony; we're not shooting anybody out of a cannon or anything like that," he said in July, just weeks before the grand opening. "We're just going to pay homage to the different people -- coaches, fans, staff -- who have played a huge part in building soccer here."
To Elliott, the opening of his club's very own stadium is just business as usual. In fact, the widespread ownership and operation of soccer-specific stadiums has been the business vision of MLS executives ever since the league's founding in 1996. It's just that now, 10 seasons later, with three MLS clubs operating from their own venues in Los Angeles, Columbus, Ohio, and Dallas, and four more soon to join their ranks -- teams in Chicago, Denver, Salt Lake City and the New York metro area will move into new stadiums by 2008 -- MLS is finally in a position to turn that vision into reality.
"When people talk about Major League Soccer today, they don't ask whether it's going to survive, but how much it is thriving," says Dan Courtemanche, the league's senior vice president of marketing communications. "That might sound trite, but ultimately, it really isn't a question of our survival. The question is how will the league grow, how will it reach the next level."
The answer to these questions, according to Courtemanche and a host of MLS franchise executives, is quite simple. Having endured a decade of sporadic criticism from soccer purists (both stateside and abroad) and unfulfilled expectations at the turnstiles, MLS officials and investors are now betting all they have on soccer-specific stadiums for each of the league's 10 franchises and two expansion teams. For example, Pizza Hut Park -- a 117-acre complex that features a 22,000-seat stadium with 18 suites and a 6,500-square-foot club area, in addition to 17 championship-quality soccer fields that will host high school and youth soccer games and tournaments -- was built at a cost of $65 million. Funding came from sources both public (the city of Frisco, Collin County and the Frisco Independent School District) and private (the Hunt Sports Group, chaired by Kansas City Chiefs owner Lamar Hunt).
The new home of the Chicago Fire, slated for completion in the southwest suburban village of Bridgeview next spring, is also a product of public and private financing. The sports and entertainment venue will seat 20,000 for Fire games and 28,000 for concerts and other special events.
Why are MLS officials pinning their league's fate on these facilities? It's simple, says Courtemanche. "By bringing online a soccer-specific venue that is either owned by an MLS team or has an MLS team as its primary tenant, the chance is there to really turn a profit. Teams that have their own soccer-specific stadiums are either at or near break-even."
League officials like to point to the Los Angeles Galaxy and its residence, the $150 million Home Depot Center, located on the campus of California State University, Dominguez Hills, as a prime example. There, Doug Hamilton, the Galaxy's president and general manager, has had two years to figure out why it makes better sense for his club to own than rent. He lists three main reasons. "First and foremost, owning your own building opens the ancillary revenue streams. Your share of parking, concessions, merchandise, the rest of it, increases. You would also hope that you'd get favorable rent terms," he says, only half-jokingly (Anschutz Entertainment Group owns and operates both the Home Depot Center and the Galaxy, one of five MLS teams owned by AEG). "Add that to what I think is the most critical aspect -- to a large degree, you control your playing dates. You can schedule more games on Saturday nights, or at times of the year that are more conducive to attracting fans.
"Finally, there is the sense of permanence. Soccer, in this country, has struggled to get a foothold; it's come in and out of the American vernacular. But we're here to stay," Hamilton continues. "Once you put $150 million into a facility, you've made a pretty long-term commitment. Our fans and players recognize that. The business community and our broadcast partners recognize that. And so their willingness to partner with us long-term and be engaged emotionally and financially with us increases."
The Home Depot Center has often been referred to by Hamilton and his peers as the cathedral of U.S. soccer -- and rightly so. In just its first year of operation, the 27,000-seat soccer stadium (which is sited end-to-end with a 13,000-seat tennis stadium) hosted the MLS All-Star Game, the MLS Cup and the 2003 FIFA Women's World Cup championship game. This summer, in addition to accommodating all home games of the Galaxy and Club Deportivos Chivas USA (one of two MLS expansion teams), the Home Depot Center was the site of perhaps the highest-profile exhibition game, or "friendly," in MLS history -- the July 18 matchup between the Galaxy and Spain's Real Madrid Galacticos, the most popular soccer club in the world.
Courtemanche, for one, didn't seem to mind too much that the Galaxy was blanked, 2-0. "We had in there the likes of David Beckham, Ronaldo and Zinedine Zidane. It was a tremendous showcase for the Home Depot Center before an international audience," he says of the sold-out exhibition. "Even Phil Anschutz [chairman of The Anschutz Corporation, AEG's parent company] and Alan Rothenberg [the founder of MLS] had to buy their tickets. We didn't comp any tickets to that game -- there wasn't a free seat in the house."
At an average price of just under $25, admission to an MLS game is twice as affordable as a ticket to an NBA, NFL or NHL game. Despite their ability to offer sports fans affordable entertainment, MLS general managers -- like executives of the other professional leagues -- aren't relying on ticket sales alone to attain profitability.
Rather, following a design trend prevalent in recent professional sporting venues, MLS stadiums are increasingly being conceived as destinations -- anchors of lifestyle and entertainment districts. Pizza Hut Park is the first major piece of what will eventually be Frisco Town Square, a mixed-use development currently under construction. Over the next few years, commercial, retail and public buildings, including the new Frisco City Hall, will join what Elliott calls "a very defined residential component" with apartments and condominiums. "Nobody really knows the potential for that area," he adds, noting that Frisco is located in a burgeoning area of the Dallas-Fort Worth Metroplex. "We estimate that the volume of people coming into this area will be more than a million and a half."
Elliot expects that Pizza Hut Park will draw the majority of those visitors, not only because of the facility's pro and amateur soccer programs, but also because of its ability to attract both high-profile and novelty musical acts. Erected along the northern end line of the field is a permanent 20,000-square-foot concert stage that, because of its wild-card potential as a profit-maker, Elliott calls "the Trojan horse" of the facility. "We have a relationship with AEG Live as our concert promoter, but we've already had to take a pass on acts like Kenny Chesney, Dave Matthews Band and Green Day," he says, referring to weather-related construction setbacks that delayed by four months Pizza Hut Park's originally scheduled April grand opening. "When they come around again, those acts are coming into the facility."
And unlike MLS club officials in cities like Chicago and Salt Lake -- which have to schedule their matches around football games for the Chicago Bears (at Soldier Field) and the University of Utah (at Rice-Eccles Stadium) -- Elliott and his staff will only have themselves to compete against on the annual facility schedule.
It's nice to have that sort of freedom, especially if and when club officials are forced to take the weather into consideration when deciding the subsequent season's matchups. The 32-game MLS regular season runs from early April through mid-October, and franchises in northern climes -- notably, the New England Revolution, the Chicago Fire, the Columbus Crew and the Metrostars (of New York/New Jersey) -- are most susceptible to Mother Nature's whims.
Courtemanche says that among the reasons behind the 34 percent attendance drop in Columbus (comparing the 2004 season's first-half figures with that of this season's first half, which ended June 22) was "some terrible weather at the start of the year. We're a professional sports league that attracts a family audience. If it's a nice day out, we're going to do well when it comes to walk-up crowds and families. If it's in the 30s and raining -- like it was for the first few games of the year at our venues in New York and Columbus -- those fans are going to stay away." though the Crew has its own stadium, that team and other Northern clubs could stand to benefit if more warm-weather teams had their own venues. "We're looking at playing some games out in California at the start of the year," says Courtemanche. "We were just in Columbus, and our commissioner sat down with their staff and asked them, 'Would you rather have a Saturday night game in April or a Wednesday night game in July?' "
Obviously, pandering to fans' preferences (within reason) is in a team's best interests if it has any aspirations to build a consistent following. However, officials with MLS teams have learned that they can also accomplish this goal by becoming a bona fide community asset. The 17 fields extending north of the main stadium at Pizza Hut Park, for instance, are expected to be used 300 days a year by all kinds of amateur soccer organizations and recreational leagues, not to mention football and soccer teams representing the Frisco Independent School District. In addition, the former North Texas State Soccer Association -- with 68 teams, the largest joint youth and adult soccer association in the country -- has moved its headquarters to Pizza Hut Park and changed its name to FC Texas. "That's really what we want each of our facilities to be: the home for soccer in that community," says Courtemanche, adding that he hopes Frisco residents consider it an added benefit that their "professional sports team just happens to play there."
That's precisely how Steve Pastorino, general manager of Real Salt Lake, the other MLS expansion team that began play this season, would view a soccer-specific stadium for his franchise. According to Pastorino, team owner Dave Checketts is determined to get a new soccer stadium built in metro Salt Lake City by 2007, but decisions on a building site (three locations are in the running) and financing plans have yet to be finalized.
Those hang-ups haven't deterred Pastorino, especially since by midseason his rookie club was second in league attendance (just behind the L.A. Galaxy), drawing nearly 21,000 fans to Rice-Eccles Stadium each game. Pastorino is also encouraged when he sees the progress being made on the Bridgeview stadium for the Fire, his employer from 1997 to 2004. "I spent what felt like 10 years, but was probably about five, on the Chicago proj ect," he says. "To see it come to fruition is very rewarding for me, but also very encouraging to see that with enough determination, you can find ways to make it work."
But Pastorino isn't so naÏve to believe a stadium will develop itself in Salt Lake City overnight; he's armed himself with "a great degree of patience." In the meantime, Pastorino and his staff "revel in the fact that we're playing in an Olympic venue, which is pretty rare," and are putting the majority of their energies into building the Real Salt Lake brand. to this strategy are efforts to reach out to the city's Hispanic sports consumer market, which Pastorino says is larger than most people might expect.
"One of the misconceptions about Utah is that it's not very diverse at all, when in fact, minority students outnumber white students in the Salt Lake City Public School District," he says. better serve their Hispanic fans, one quarter of the Real Salt Lake staff speaks fluent Spanish. All radio broadcasts of games are in English and Spanish, as are public address announcements. In addition, Real Salt Lake has partnered with the local Telemundo affiliate to air on Sunday nights a 30-minute television show devoted to the team.
Pastorino, who was born in Venezuela and spent much of his childhood in soccer stadiums large and small in Portugal, Mexico and Colombia, understands -- perhaps better than his fellow general managers -- how critical it is for the American version of soccer to align itself with the global game. "The U.S. is an increasingly diverse country," he says. "In my mind, we would be missing the boat if we didn't make our Hispanic community feel very much a part of everything that we do."
Team officials throughout the league are catching on. Communications and marketing professionals with titles such as "marketing agent, ethnic sales," "manager, Hispanic fan development" and "Hispanic marketing and communications coordinator" are becoming more commonplace on MLS franchise staffs. The Chicago Fire has on staff both Spanish- and Polish-language PA announcers, no doubt a move to appease the team's fan base, which draws heavily from Chicago's soccer-rich Southland community, home to more than 5.5 million people of Latino or European descent.
Do such nods toward diversity reflect a paradigm shift among MLS executives, who early on pitched the league as a uniquely American brand of soccer? "I think the founders of the league underestimated the knowledge of the soccer fan in the United States,"says Courtemanche, who started with MLS in 1995. "We had the shootout to decide games. Instead of the clock ticking up like it does in international soccer, it ticked down like it does for all American sporting events. So we had a few of what soccer fans would call 'gimmicks,' and it didn't sit well. But we changed those throughout the years. Now, on the field we're in line with the international standard."
Off the field, MLS is now being marketed by Courtemanche and other executives as the League for a New America, "a new America being people of all different ethnicities who are fans of soccer," he says. That's all well and good, but MLS is still a business that must keep up with the 21st century economy's ever-pressing demands to globalize. To that end, the league has formed a sister entity called Soccer United Marketing. Through this company, MLS was able to purchase the English-language TV broadcast rights to the 2002 and 2006 Men's World Cup and the 2003 Women's World Cup (the 2002 and 2003 events were aired on ABC and ESPN).
United Marketing has also served as the vehicle by which MLS has hosted in its venues international tournaments like the CONCACAF Gold Cup (won in July by the U.S.) and arranged friendlies for its member clubs against high-profile international sides like Real Madrid and AC Milan. Of course, such events provide the league even more opportunities to showcase its new soccer-specific facilities. Galaxy's Hamilton was still basking in the glow of his stadium's appearance on TV screens worldwide days after his team's July match against Real Madrid. "Look, when you consider the sightlines, the amenities, the weather -- everything that this market and this building provides you -- you have the best soccer facility in America, bar none, and it compares with any in the world," he says.
While construction crews put the finishing touches on his stadium throughout the fall, Elliott can hardly wait for his first opportunity to share Hamilton's enthusiasm. On Nov. 13, his Pizza Hut Park is set to host American soccer's Super Bowl -- the MLS Cup. "I think people sitting in the seats and having a cold beer or a soft drink and watching the match in an unbelievable venue are not going to be worrying about whether our offices are done," he says. "I think they'll be focused on the experience, and that's going to just blow everybody away."