Duke's lacrosse scandal rocked Durham and raised questions about the athlete's role as ambassador.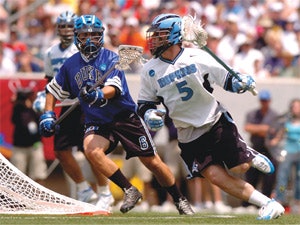 Comparisons were made to Hurricane Katrina: It took nothing short of a disaster for long-simmering issues to finally boil over.
News that dozens of Duke University men's lacrosse players, all but one of whom are white, invited two African-American females to dance for them at an off-campus house party in March, addressed the women with racial epithets, and then sat idle while three of the players allegedly raped one of the women in a bathroom caused a nationwide media firestorm.
Rare was the news report that failed to mention the scandal's impact on the Durham, N.C., community. Disparities between Duke and Durham in terms of race and economics were referenced repeatedly. Anecdotal evidence of the lacrosse players' arrogance, exhibited in particular by those who occupied the house in question across the street from Duke's East Campus, came to light within a historical context of ignored noise complaints and abusive language toward neighbors. It all left many wondering how this could happen, and at no less an exemplary academic and athletic institution as Duke.
In a letter e-mailed April 5 to some 80,000 members of the Duke community and posted on the university's web site, president Richard Brodhead stated, "The episode has brought to glaring visibility underlying issues that have been of concern on this campus and in this town for some time - issues that are not unique to Duke or Durham but that have been brought to the fore in our midst. . They include concerns about the deep structures of inequality in our society - inequalities of wealth, privilege and opportunity (including educational opportunity), and the attitudes of superiority those inequalities breed. And they include concerns that, whether they intend to or not, universities like Duke participate in this inequality and supply a home for a culture of privilege."
If, as is often said, the athletic department represents the front porch of a university, then it stands to reason that student-athletes must serve as the pillars that prop it up. Tops on Brodhead's list of five steps Duke would take to address its issues was an investigation of men's lacrosse. The president and athletic director Joe Alleva had already decided to suspend the season indefinitely as of March 28, a day on which team captains released a statement that read in part: "Because of the intense emotions surrounding these allegations, we feel it is in the best interest of the university, the community and our families that the team should not play competitively until the DNA results verify our unequivocal denial of these allegations."
The statement mentioned regret, but the team's collective contrition came into serious question only eight days later, when an e-mail surfaced in which a Duke lacrosse player wrote of wanting to kill and skin strippers. At that point, Duke officially cancelled the season, and coach Mike Pressler resigned. The situation was quickly swelling into the biggest public relations black eye ever seen on the face of Blue Devil athletics, if not Duke at large.
Locally, the university tried its best to positively portray the university's relationship with Durham, pointing out on its web site that 75 percent of all students perform community service while enrolled at Duke. Though he admits he can't break that percentage down further to isolate student-athletes' involvement, Michael Palmer, Duke's director of community affairs, is quick to mention the community work of All-American basketball players Sheldon Williams and Monique Currie. When Ted Roof became Duke's head football coach two years ago, he approached Palmer's office about community affairs projects that his team could perform. Today, the Blue Devils make regular visits to three area hospitals, as well as a nearby middle school attended largely by underprivileged African-American children.
"We've been doing this, and we're going to continue to do this, because it's important that we serve as ambassadors and reach out to positively impact the Duke and Durham communities," Roof says. "That's part of our vision and our mission. Our mission here is a lot bigger than just trying to win football games or get degrees."
Among its projects, the Duke football program helped raise funds to furnish a computer lab at Carter Community School, located within walking distance of Duke's West Campus. "That is a resource that the school could not fit into its budget," says Carter principal Gail Scott Young. "That has been a tremendous help."
Personal contact between players and students represents a less tangible but equally important result of the partnership, Scott Young adds. "It creates a relationship that shows that the football players are, first of all, responsible citizens; secondly, they're students; and, thirdly, they're athletes. When the football players come over to our school, we see them interacting with the young people as young men seeking to be good role models in the community."
While commendable, such outreach doesn't reach far enough, according to Kathy Redmond, founder of the National Coalition Against Violent Athletes and the victim of a student-athlete-perpetrated rape while she was a student and lacrosse player at the University of Nebraska. Redmond says that today's student-athletes, who too often end up insulated within a culture of entitlement that includes excessive partying and sex, need to learn from their community service, too, and rape awareness should be among the life lessons. "This is something that most schools do not do, so if Duke wants to be a leader in this, they'll take that up," she says. "I don't know of one school that sends its athletes into rape-crisis centers, and I don't know why. I know that an organization like mine could use that help."
Within the past year, Duke had taken several measures to help foster its town-gown relations with Durham. Most notably, it created and filled the position of program coordinator for judicial affairs, serving as the university liaison with neighbors and other off-campus individuals regarding disruptive behavior. The university also purchased 13 properties bordering East Campus, including the house at which the March 13 party took place. That $3 million purchase, made with the intention of replacing student renters with single families within the next year (leases already signed for the 2006-07 academic year will be honored), came mere weeks before the scandal broke. "That's the long-term solution to getting partying out of that neighborhood," Palmer says. "When we acquired the properties two weeks earlier, we were getting pats on the back - Duke has finally stepped up to the plate in helping the community solve the problem."
Still, Duke officials now realize that evicting the problem won't necessarily make it go away. Rounding out Brodhead's list of initiatives announced in the scandal's wake were an investigation of Duke's administrative response, an examination of the student judicial process and practices, creation of a Campus Culture Initiative to promote responsibility and respect, and the formation of a Presidential Council to provide guidance to the Duke board of trustees and to Brodhead himself.
In his own position as community affairs director, Palmer welcomes the prospect of the athletic department and its student-athletes accepting more responsibility as university ambassadors. "I expect that's going to happen. Very likely, we will be meeting during the summer with the athletic director and talking about how the athletic teams can get more involved," he says. "We're going to learn from this, and the work will continue many years into the future in terms of addressing the cultural issues that this incident unveiled. And I think, in a crazy way, we'll end up better for it."