The World Anit-Doping Agency takes issue with hypoxic chambers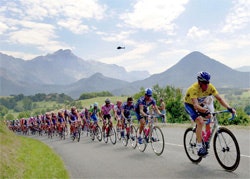 Back in July 1994, when AB first reported on hypoxic chambers - sleeping tubes, tents or rooms that simulate high altitudes, allowing athletes living at low altitude to benefit from the body's stimulated production of red blood cells - there were plenty of skeptics. But over the years, the theory has gained acceptance among world-class athletes and their trainers, who have surely noticed that as many as 95 percent of medals in any given Olympiad have been won by athletes who live or train at high altitude.
The World Anti-Doping Agency has also been taking notice and, in July, its ethics panel shocked the Olympic community with the determination that hypoxic chambers violate "the spirit of sport." The agency said it would decide later this month whether to include altitude tents and rooms on its List of Prohibited Substances and Methods for 2007.
Seventy-six scientists and bioethicists have since signed a letter to WADA that expresses "grave concern" over the proposal, and the concerns are myriad:
How is sleeping in a hypoxic chamber any different than going to live in a mountainous region to get an edge on the competition? It isn't, critics say; it's just less expensive and more convenient.
What, exactly, is a violation of the "spirit of sport"? WADA normally goes after "active" dopers, but in this case its ethics committee decided that athletes seeking an edge by way of "purely passive" activities - sleeping in a chamber - could be viewed as violating the spirit of sport. On the other hand, an athlete who actively endeavors to learn how to use a technologically enhanced piece of equipment to his or her advantage would not be in violation.
Is sleeping in a hypoxic chamber truly "passive" if it is part of an athlete's detailed rest-and-recovery schedule?
How does sleeping in a hypoxic chamber differ from sitting in a sauna or steam room to acclimate the body to heat and humidity?
Assuming WADA could answer those questions and went ahead with the ban, how would it be enforced? WADA's ethics panelists were told not to comment publicly until the September vote, but Thomas Murray, the ethics advisory panel chairman and the president of the Hastings Center (a Garrison, N.Y.-based bioethics research institute), told The New York Times that debate on these issues was welcome - and necessary. "Lines can be very difficult to draw, there is no question about it," Murray said, adding that if there were no lines, "whatever you like about sport will disappear."