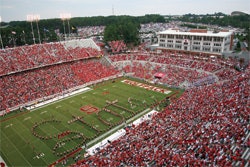 The United States Football League invested big money in star power and faded after three seasons.

The XFL offered a brand of pro football never seen before. Consumers witnessed one season's worth.

Even the World League of American Football couldn't maintain a North American presence, with three franchises packing their bags for what would eventually become NFL Europe.

Now, the All American Football League, which went public in late July with its intention to begin play next spring, promises another spin on America's unofficial pastime — one that emulates the collegiate gameday atmosphere. Even as AAFL players collect $100,000 paychecks (compare that to the 20-year-old Arena Football League's annual compensation average of $85,000), games will adhere to NCAA rules and be staged in campus stadiums and collegiate bowl venues. According to league organizers, individual athletic departments whose facilities host AAFL franchises stand to gain between $3 million and $5 million in lease, parking and concessions revenues. All they have to do is allow a single campus facility to be used on a mere half-dozen gamedays, "which is better than letting it sit there empty," says former NCAA president and acting AAFL commissioner Cedric Dempsey.

Athletics administrators remain cautiously optimistic. "This is like Monopoly money right now; it doesn't mean much unless the league becomes operational," says Morgan Burke, athletic director at Purdue University, one of a handful of schools that have publicly expressed interest in hosting an AAFL franchise between the close of spring practice and the start of the collegiate season. "All we've done is say that we would be willing to make our venue available on these five or six Saturdays during that dead period. If we can do something that is compatible with our educational mission, helps us with our debt service and adds some recreational opportunities for our community, it seems to be a reasonable thing to do. We'll just see how it plays out."

The AAFL's educational nuance — a requirement that all players have exhausted their NCAA eligibility and have in fact graduated with a degree — is unique to professional sports. So is the league's intention to stock each 40-man roster with regional talent, either from the host school or its collegiate conference. Dempsey contends that all of this should serve as incentive for players not immediately bound for the NFL to stay in school in order to pursue other career options — either on the field or off. "There will be some who we suspect will want to go on to graduate school," he says, "and hopefully this will give them a good opportunity — right where they're playing — to transition into what they want to do with the rest of their lives."

Dempsey further predicts that pro football on campus may help the host university's coach recruit players onto his own roster. But whether an abundance of college spirit is enough to spare the AAFL the same fate of its ill-conceived pro football forbears is unclear. "I think a lot of the appeal of college football has less to do with the players and more to do with the university," says Scott Kelley, director of the University of Kentucky Center for Sports Marketing. "It sounds like the model they're trying to use is going to be less about the schools and more about the players. And you're still talking about fielding teams with players who weren't good enough to play at the next level. I think that probably will put a damper on demand for some folks."

AAFL organizers remain convinced that demand exists — particularly in college football hotbeds that comprise the Atlantic Coast, Big Ten and Southeastern conferences. "Geographically, we want to keep the league where the demographics make financial sense for us — in regions where there are strong college ties and where people would watch football 12 months a year if they could," Dempsey says.

Adds David Horning, senior associate athletic director for men's sports at North Carolina State University, another potential host site, "In our state, it's an opportunity to draw graduated players from East Carolina or Wake Forest or UNC or Duke or North Carolina A&T or Appalachian State, which was the Division I-AA national champ last year."

Dempsey is confident that, despite the AAFL's graduation criteria, the talent pool will be wide and deep enough to fill eight rosters initially, with a West Coast expansion possible in future seasons. "We figure of the group that tries out for the NFL each year, there are approximately 300 players who don't make it who would meet these criteria," he says. "There will be a significant pool."

Awarding of AAFL franchises will require a reported $2 million to $3 million up front, plus a $15 million line of credit, and the league has asked potential host universities for help in identifying qualified investors within their respective communities. Concern existed early among league focus groups that a school might cannibalize its own fund-raising efforts if it opened its booster base to the league, but Dempsey doesn't see a problem, noting, "Boosters capable of investing in a franchise are going to give significantly to the university anyway, and some of their dollars will go toward the lease of the stadium, so there is an indirect benefit to the university in that sense."

As of late August, league organizers were busy securing their own bridge money in the hopes of fielding at least six teams during an inaugural season set to kick off in late April. Dozens of details remained up in the air. Among them: the determination of suitable nicknames and colors for each team and how they might be tied to — or distanced from — the host university's own brand; broadcast negotiations spanning the media spectrum from the Internet to cable and network TV; and whether marching bands can be cobbled together to contribute to the peripheral pageantry. Other policies were already set. "The same rules that we have in effect for our gameday management will be followed by the league, so there's not going to be drinking in the stands," says Purdue's Burke. "I can assure you, had there been an issue about selling beer in the stands, we would have been out."

The uncertain nature of the venture has done little to faze N.C. State's Horning, who remains sure of his staff's ability to host football on relatively short notice if the league indeed tees it up. "Our job is to get the stadium ready to run a football game, just like we already do eight times a year," he says. "There's an awful lot of planning that goes into a season, but we have enough experience. There are a lot of loose ends, and I think that's why the league is partnering with Division I schools to do this."