Fans upset with the high price of resold tickets seek redress from the courts.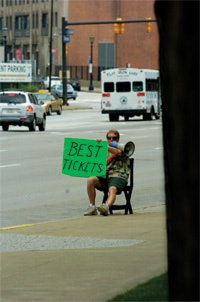 Historically, once a sporting event sold out, sports fans who wanted to watch the game would either have to do so via television or purchase tickets on the street outside the stadium from ticket scalpers at grossly inflated prices. However, with the growth of Internet auction sites such as eBay, and Internet ticket marketplaces like StubHub and Razor Gator, ticket scalping has moved off the street and onto the computer. In fact, some argue that the entire market for sports tickets has been thrown out of whack by ticket brokers who are able to purchase large blocks of tickets and resell them on the secondary market at prices high above their face value. The Internet has only made the process easier.

Even though most states still prohibit the reselling of tickets for greater than face value, these laws are rarely enforced, especially when the tickets are sold online. But while the police may have turned a blind eye to the secondary ticket market, some sports fans upset about high ticket prices have begun to challenge the practice in court. One example of such a suit is Herman v. Admit One Ticket Agency.

During the 2005 Major League Baseball season, the Admit One Ticket Agency was offering for resale $80 tickets to a game at Fenway Park pitting the Boston Red Sox against their bitter rivals, the New York Yankees, for $500 apiece. Admit One's $420 markup was in seeming violation of the Massachusetts Consumer Protection Act's anti-scalping law, under which ticket resellers may not charge more than $2 above a ticket's face value, although they can tack on certain service charges.

At least consumer activist Colman Herman thought so, and he filed a lawsuit against the Admit One Ticket Agency. In response, Admit One argued that it never actually sold the tickets; all it provided on its web site was a venue for season ticket holders and other fans to resell their tickets. Admit One also argued that Herman was improperly acting as a private attorney general, and that since Herman never actually bought one of the tickets in question, he did not suffer any damages, a requirement under the Consumer Protection Act.

In allowing the suit to continue, the district court ruled that the anti-scalping law does not specifically prohibit an individual from enforcing the law on his own. As for damages, the court ruled that Herman, though he suffered no monetary loss, might have been injured by his inability to purchase a ticket except at the inflated price. In particular, the court stated that Herman had a protected right to purchase a ticket at a price established by law that balances the economic interests of the ticket seller and the consumer's interest in a particular (in this case, sporting) event. Herman, the court noted, made an effort to secure a ticket reflective of this balance, and was denied the opportunity.

While the decision by the district court simply allows the Herman case to proceed to trial, the case could eventually have major implications for ticket resellers in Massachusetts and other states. Absent a change in Massachusetts' anti-scalping law, a Herman victory could put ticket brokers out of business, since they would only be able to charge $2 plus a service charge for any sporting or cultural event taking place in Massachusetts.

The Massachusetts Public Safety office, the agency responsible for enforcing the law, did attempt to redraft it in 2005. That move was unsuccessful, but other states' lawmakers have voted to amend or abolish their anti-scalping laws. The Louisiana Legislature recently passed a bill that would allow ticket holders to resell their tickets on web sites set up by Ticketmaster and eBay. South Carolina's legislature, meanwhile, is considering a bill that would allow people to resell their tickets for a price over face value if they sold them through the venue or company that sold the original ticket. In exchange for reselling the ticket, the company would charge the ticket owner a fee, which would then be split with the venue or promoter.

This would appear to be a model that the courts can live with. In Illinois, one of three states whose courts have dealt with similar cases (Michigan and Missouri are the others), the state appeals court ruled in July that the ticket brokerage owned by the Chicago Cubs did not violate state anti-scalping laws when it resold tickets for prices higher than their face value.

There is money to be made reselling tickets. While the total revenue currently generated by the online secondary ticket market is less than $10 million annually, some experts believe that figure could grow to as much as $2.5 billion.

As the Chicago Cubs case indicates, a professional or college sports team that embraces the secondary ticket concept would appear to be shielded from fan lawsuits citing consumer-protection laws. Whether a team chooses to enter into a sponsorship deal with an online ticket marketplace (naming a site such as StubHub its "official ticket resale partner") or run the online ticket exchange itself, it is in essence making available ticket inventory just as it does at the beginning of the season. A ticket resold through a team's site at midseason might or might not fetch a higher price, but its "value" (no matter what price is printed on its "face") will be determined by the willingness of another consumer to purchase it. That the team gets a cut of the inflated take might make all the difference to the courts.