How much say should coaches have in players' off-the-field behavior?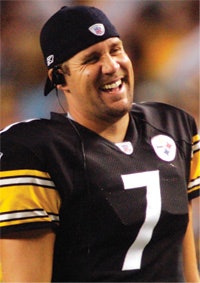 Jenks (Okla.) High School football player Garrett Bennett died when an SUV carrying him and three teammates from a paintball outing swerved out of control and crashed-the result of paintball horseplay continuing at high speeds with Jenks players in a second vehicle.
Clemson University assistant track coach Jerrett Foster died after falling off a personal watercraft and being struck in the head by another one driven by Roman Fry, an offensive lineman on the Tigers football team.
Pittsburgh Steelers quarterback Ben Roethlisberger rammed his motorcycle into a car, suffered multiple facial fractures and was later told by first responders that internal bleeding left him seconds from death.
What began as seemingly benign activities in these athletes' off-season free time instead took tragic (or near-tragic) turns-and all within a span of four weeks this summer. It left even casual observers to wonder whether athletics administrators have a duty to monitor the whereabouts-if not every recreational whim-of those individuals who fall under their full-time watch once the season begins. "It's very difficult to try to control everything an athlete does away from the program," admits Grant Teaff, executive director of the American Football Coaches Association and a former coach himself. "On the other hand, every coach-from the pros down through the junior high level-must try very hard to advise about behaviors and safety. One of the things about football players, in particular, is they play in a physically tough game, and they have a mental toughness that is sometimes detrimental in real life. There's a mentality that develops of indestructibility."
It was widely reported that Steelers head coach Bill Cowher had pleaded with Roethlisberger to wear a helmet when riding-a message the Super Bowl-winning QB chose to ignore prior to revving up his bike that fateful June day. That choice was Roethlisberger's right, after all, at least according to Pennsylvania helmet laws. Last year, Cleveland Browns tight end Kellen Winslow Jr. violated actual terms in his contract by merely riding a motorcycle, which he crashed, causing him to miss the entire 2005 season and forfeit $2 million of his signing bonus. Standard NBA contracts prohibit motorcycle riding, but that didn't stop Chicago Bulls guard Jay Williams from driving his new Yamaha sportbike to dinner in June 2003. A crash cost Williams full use of his left leg, three seasons (and counting) on the court and millions of dollars in salary. The Bulls bought out the last two years of Williams' contract at a reduced rate, and waived him in February 2004.
But what about those not under contract? Can high school and college administrators tell players to avoid paintball or to swear off Jet Skis? "I would prefer them to be doing more leadership-type training to get athletes to make better decisions, as opposed to just restricting what they can and cannot do," says Jeff O'Brien, senior associate director of programs at Northeastern University's Center for the Study of Sport in Society. "In athletics, in particular, coaches do an awful lot of telling athletes what they can't do. They don't do enough of telling them what they should do."