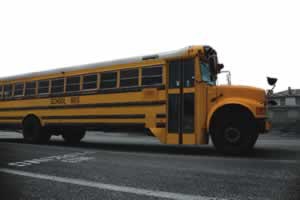 Upon realizing that the bus in which she and members of the Dallas Center-Grimes (Iowa) High School girls' volleyball team were riding Aug. 29 had just run a stop sign, coach Angie Reed told the driver to pull over mere blocks from the team's departure point - a tournament at Waukee High. Reed instructed her players to leave the bus, then called school administrators and told them that she suspected the bus driver was drunk. She was right.

Waukee police found 49-year-old Michael Rolow to have a blood-alcohol content more than twice Iowa's legal limit, and charged him with intoxication. On the bus, they discovered a bottle of Hawkeye Vodka underneath the driver's seat.

Michelle Lozier had no knowledge of the Iowa incident when - just three days later - the coach climbed aboard a bus with her New Albany (Ind.) High School cheerleading squad to travel to North Vernon for a football game against Jennings County. About 20 miles into the return trip, she noticed that the bus driver appeared confused and that her driving seemed erratic. Lozier promptly asked the driver to exit Interstate 65, and called school officials. With the bus parked at a gas station, Indiana State Police charged driver Sylvia Cooke, 60, with operating while intoxicated. Her BAC, like Rolow's, was more than double what is legally acceptable in Indiana.

School buses are widely considered to be a safe means of travel for students and student-athletes, but what about the individuals entrusted with the keys? Administrators at both Dallas Center-Grimes and New Albany had every reason to believe their passengers were in good hands. Cooke had a clean record before and after joining the New Albany staff three years ago, and Rolow had served 23 years on the police department of Windsor Heights (located just 13 miles from Grimes), retiring as chief in December 2002. "Bus drivers are monitored more than any other group in our school," says Gary Sinclair, superintendent of the Dallas Center-Grimes Community School District, which employs its own drivers. "We conduct telephone reference checks and drug screening for all of our employees. And because bus drivers have a commercial driver's license, they undergo random drug and alcohol testing."

But as these cases demonstrate, coaches must sometimes be counted on to provide the last line of defense against driver impairment - an important, but unenviable role. Says New Albany athletic director Don Unruh, a former basketball coach, "You have so many other responsibilities to be thinking about as a coach, and I think that sometimes the actual driving gets overlooked. We just assume everything is going to be okay."

In each case, everything appeared to be okay for half the trip, with the idle time during the actual athletic events coming under scrutiny. According to Lenny Bernstein, transportation coordinator for the North Rockland (N.Y.) School District and president of the National Association for Pupil Transportation, what bus drivers are allowed to do while games are played varies by school and circumstance. They may stay on the bus, enter the game, leave the grounds and return, or even head straight home in the event a different bus driver is scheduled to handle the post-game pickup.

Based on the evidence found onboard, it is clear that Rolow didn't have to leave the bus to become too impaired to drive it. And while Unruh was unable, as of this writing, to share Cooke's exact whereabouts during the Friday night football game in question, he says New Albany's policy of allowing bus drivers to leave the destination school's grounds came under immediate review.

For his part, Unruh gathered his coaches and for the first time addressed dealing with impaired bus drivers, referencing the exemplary actions of Lozier. "We're really pleased with her awareness of the situation and that she took charge and got the bus stopped," Unruh says. "We talked to our coaches about trying to learn from this and taking her lead."

Sinclair likewise lauded Reed in staff meetings at Dallas-Center Grimes. "What she did is difficult," he says. "We used her as an example not only to our staff, but to our students. It's a great example of character, of doing the right thing."