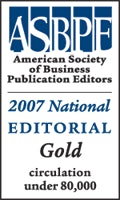 MADISON, WI (Aug. 2, 2007) - Editor Andrew Cohen and Art Director Katy Williams of Athletic Business magazine took home a Gold Award, presented by the American Society of Business Publication Editors at a ceremony held at New York City's Roosevelt Hotel. The magazine won top honors in the category of Best Staff-Written Column, under 80,000 circulation, for two columns that were featured last year in "The Field" section.
The stories examine the efforts of several military fitness programs to ready active-duty personnel for battle and help them deal with the physical and mental rigors of military life. The first, "War and Peace," delves into the benefits of yoga and Pilates to military personnel.
The 29th annual Awards for Editorial Excellence are given in 56 print, digital and multi-platform categories, for both editorial and graphic excellence. This year, 2,600 entries were submitted and 50 gold winners were announced.
Log in to view the full article