Meditative workout options such as yoga and Pilates begin to find a foothold in the armed forces.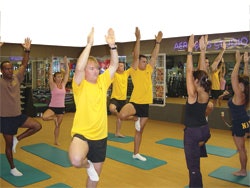 If ever there were a class of people who stood to benefit from yoga, you'd think it would be our fighting men and women. Yet conventional wisdom holds that soldiers and serenity don't mix. For example, when Fit Yoga put a photo of two Naval aviators doing yoga poses in full combat gear on its cover this August, even the magazine's editor, Rita Trieger felt compelled to pronounce it "a little shocking."

The same is true within the military's ranks. "Guys will say, `So, what do you want us to do next, ballet?' " says Emily Savoca-Deason, fitness director at Naval Station Mayport, where yoga has been offered for seven years and Pilates for three. But, she says, for most active-duty personnel the purpose isn't so much meditation as it is physical fitness.

"We actually had six or seven EOD guys come in the other day," Savoca-Deason says, referring to Explosive Ordnance Disposal personnel. "They defuse bombs; they're some of the toughest, most specially trained people in the Navy. We usually do boot camp-type workouts with them, but they came to Pilates to work on their flexibility. So active-duty personnel are becoming more aware of incorporating flexibility-oriented classes into their workout regime."

Barbara Hickenbottom, fitness program manager at Travis AFB, sees much the same trend after four years of offering Pilates and yoga. "Especially since they have to do the Air Force fitness test, which requires a strong core to do muscular endurance-type exercises such as crunches and pushups," she says, adding that the growth in yoga and Pilates goes beyond scheduled classes in both disciplines. "More instructors are incorporating yoga and Pilates moves in their regular fitness classes, particularly in the cool-down and stretching part. So even people who aren't signed up for full-fledged yoga and Pilates are getting a taste, and more of them are seeing the benefits." ("Full-fledged" is a bit of a misnomer in this case; the classes at Mayport and Travis include modern hybrids such as power yoga and Yoga-lates, and eschew traditional, apparatus-heavy Pilates in favor of Pilates-like stretching with stability balls and the like.)

Growth of such programs in military fitness settings is slow, however. As Hickenbottom notes, both are progressive exercises (yoga perhaps less so), making it difficult to fit them into a military lifestyle that sees base residents move regularly from place to place. This can frustrate instructors, who study and become certified in a specialized discipline only to be trapped in a continuous cycle of teaching beginner's classes as their most enthusiastic students are deployed or otherwise transferred. Worse still, the nomadic base culture can hamper recruitment, since would-be exercisers might not want to pay for a longer-term program that they may not be around to complete.

"We'd offer a monthly or daily pass, since people looking at a PCS [permanent change of station] or TDY [temporary duty] might not want to commit, but I found we weren't getting a consistent number of people staying in the class," Hickenbottom says.

Another cultural impediment, according to Hickenbottom, is the rigidity of the typical military mind. "Military people like things the same all the time, because their world really isn't consistent," she says. "They like the Step class, they'll go to the Step class, they've been going to the Step class for years, and it's always the same Step class. So I try to make them try new things; once in a while, when I have to sub for an aerobics instructor, I'll throw in a Pilates instructor and make them do Pilates that day. When I get a chance to rock their world a little bit, I do."

General lack of familiarity with either discipline, though, is most responsible for making them a hard sell. In spite of impressive increases in participation at health clubs, YMCAs, colleges and municipal recreation centers, among military personnel there remains a widespread understanding of yoga and Pilates as a spiritual pursuit and a dancer's regimen, respectively. Savoca-Deason says she downplays the spiritual aspect of yoga, for example, preferring instead to highlight its physical or rehabilitative benefits.

"Sports medicine refers clients to us who might have some hamstring inflexibility issues or some core weaknesses in the back or abdominals," Savoca-Deason says. "We also get some who have been referred from the clinic who have stress issues. The Navy's trying to do more with less manpower, and the guys are stressed. So we work with them one on one but also encourage them to come to classes that deal with muscular tension, such as one we have called Functional Flexibility and Stress Management. One of my people teaches conscious relaxation, which leads participants through some progressive relaxation, during which they put little eye bags and blankets on. But again, we frame it as muscular tension reduction, not stress management."

Hickenbottom sees not so much apprehension of becoming involved in a touchy-feely "Eastern thing" at her base, but rather a general fear of "feeling awkward and looking stupid" by not being able to hold a pose or showing others "how weak they really are." Holding free yoga and Pilates classes or demonstrations at regularly held "aerobathons" helps dissolve those fears, however.

"Whenever I get a chance, I throw a class together so people get to try it, and once they're there, it kind of sells itself," Hickenbottom says. "To get them to try it, though, you have to sell a little bit more because it's unfamiliar territory, and you have to be careful how you sell it. I mean, I'm all about the whole spiritual thing; that's how I live my life. But men especially haven't really considered what yoga and Pilates can do for them. Most of them are in a stressful environment, and sometimes they don't really know that stress relief is what they need."