A fitness center's grand staircase leads to the top of the social ladder.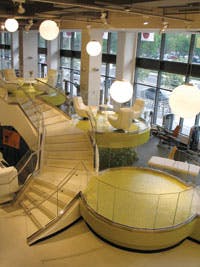 Because everyone moving between floors of a building is funneled through the same narrow path, staircases often are places of spontaneous social interaction. Open staircases, meanwhile, are sometimes designed to serve as the focal point of a space - centrally located, lavishly appointed and in full view of building occupants on both floors.
Grand staircases don't get much grander than the one at Club H Fitness in Jersey City, N.J. The central element of a narrow space that spans hundreds of feet along a busy thoroughfare, the curved, freestanding stair features three 12-foot-diameter social "pods," two of which are cantilevered and appear to float over the fitness center. Outfitted with plush chairs and small tables, the topmost pods are used by salespeople when making their pitch to prospective members, according to architect Fabiano Designs of Montclair, N.J., as well as by members looking to socialize, see and be seen.