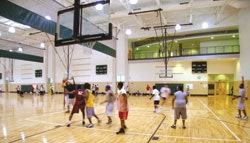 From a cultural perspective, at least in the United States, the wood-floored gymnasium appears to be ingrained.
"People just kind of expect wood, as a level of quality," says Ernest Joyner, a principal with the Denver-based architectural firm Sink Combs Dethlefs, adding that smaller community rec centers that are limited to a single court space will almost always opt for a resilient hardwood floor. "When people walk in there for the first time, they want to see that wood floor. That's when they say, 'This is a great new facility.'"
With most new larger rec centers, however, most often there will be included in the plan a second activity space featuring a multipurpose activity court, commonly referred to as a MAC. "We rarely do a rec center that's more than 100,000 square feet that does not have that second gym," says Keith Fuchigami, vice president of Cannon Design in Los Angeles, adding that he sees a lot of rec centers that were built 15 or 20 years ago that are being renovated. "Those clients almost always want to expand to include a MAC."
The ubiquity of MACs in today's new or renovated large recreation centers has exponentially changed the sports surface specification game. Additional courts mean additional choices, and surfacing manufacturers have made sure there are plenty of options to consider. Outside of traditional hardwood systems, synthetic flooring options for indoor sports include poured, rolled or seamless tile systems featuring any number of materials, allowing facility owners to find just the right flooring type in terms of cost, aesthetics, maintenance requirements, and performance characteristics such as resilience and durability.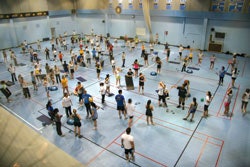 But ask any architect, and he or she will say that the leading factor driving an indoor sports flooring purchasing decision ought to be programming. "When you have a facility where there are two court types, that decision is going to be dictated by the activities," says Joyner. "You might want to make it so you have at least two different surface types so you can hit the sweet spots for different sports."
In virtually all cases, the first sport to consider is basketball. At both municipal and college rec centers, the demand for basketball far outpaces the demand for any other court sport. By all accounts, wood remains the preferred surface of most basketball players and coaches, although the range of available wood floor systems over the years has widened significantly. (Joyner notes the prevailing opinion that wood floor courts with more give are better for injury prevention, but that harder wood courts can provide a truer ball bounce and maximize users' jumping capability.)
"There's still this perception that wood flooring is the best and truest system for basketball," says Eric Gunther, a senior associate at the San Francisco-based architecture firm Hornberger + Worstell. "It's what people are used to."
Fuchigami says he will most often recommend an anchored wood floor in a recreation center's main gymnasium in order to prevent the potential for misalignment of the floor sleeves that support the poles used to outfit a gym for other of its most common visitors, volleyball and badminton players.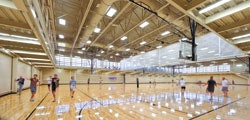 It's the second gym or court, the MAC, where the issue of whether or not to go with a synthetic surface is more often debated. In some cases, the desire for maximum flexibility and ease of maintenance - the time-consuming refinishing process is often cited as a drawback of hardwood - makes the decision to go with synthetic easy. But, as is the case with basketball-dominated hardwood, the activities anticipated to take place on a given court should help guide the decision.
"That choice is again going to depend on the sports," says Fuchigami. "If it's still mostly going to be basketball, then we would still probably go with the wood flooring. But if it's being looked at for other sports like indoor soccer or inline hockey - or even volleyball - then a non-wood floor is often going to be the best alternative."
At The WELL (Wellness, Education, Leisure, Lifestyle), a 151,000-square-foot recreation center that opened this fall on the campus of California State University, Sacramento, wood flooring was originally specified for the main gym, racquetball courts, group exercise studios and the MAC. But after school officials toured a San Francisco community center, they opted to change the MAC flooring to a harder, easily maintained, rolled-sheet synthetic surface. "The fact that it costs a little less and doesn't need to be refinished like a wood floor is why they made that decision," says Gunther, the project architect, adding that The WELL's MAC is designed to support inline hockey, indoor soccer, volleyball, badminton and basketball.
At the Town of Parker (Colo.) Fieldhouse, a 100,000-square-foot municipally owned facility that reflects a design goal of "getting a lot of surfaces under one roof for not a lot of money" (according to Joyner, the project architect), a large hardwood system was put in place to meet a clear demand for basketball. But the project team also noticed local growth in the sport of inline hockey, as the town's three outdoor inline rinks had proved very popular at the time of the design process. Thus, the team specified a harder interlocking tile system that provides the necessary resiliency and durability for inline sports. As it turns out, the less impact-absorbent surface has been more popular with volleyball and indoor soccer players, too.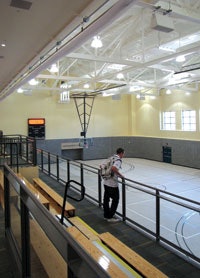 Fuchigami has noticed at some facilities in which resilient wood may be the only available sports surface that volleyball organizations will actually take the time to lay temporary tiled systems over the wood. "Every sport seems to want its own level of give," he says, adding that most of the flooring he's helped specify for MACs has been a multilayered poured system that has proven to provide playing characteristics appreciated by indoor soccer players. "It all comes down to what is going to be the main sport."
But court sports shouldn't be the only consideration. Fuchigami notes a recent trend in which group fitness classes have outgrown their traditional spaces and taken to MACs, sometimes to accommodate 100 or more exercisers simultaneously. While all of the surface types already described can adequately support most activities that occur during most group exercise classes, Fuchigami simply notes the trend as another consideration in the specification process.
Part of the reason MACs have become such popular additions to rec centers is because they can serve as flexible venues for large-scale campus or community events such as speeches, banquets and commencement ceremonies. "If you're having events in your facility, it's often the MAC that gets used for those, so you can still have the main gym for your pure recreation services," says Fuchigami. "We see a lot of facilities where public university students are paying for that building, and they'll want to book an event in there. A one-court MAC is approximately 7,000 square feet and you can fit about 800 people in there for a speaker. Most of the MACs we're doing are two courts, so you can get about 1,500 people seated for a speaker, or about 600 or 700 people for a banquet."
Given the availability of protective floor-cover options, virtually any sports surface material can accommodate such non-recreation events, although the durability and ease of maintenance provided by some synthetic options may make the court conversion process easier.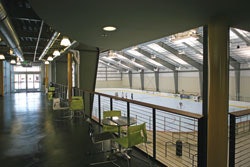 Joyner notes that the tiled court in Parker has regularly supported large food fairs, and the resulting mess left directly on the surface is relatively easy to clean. Says Joyner, "That's not something that a lot of people are going to be willing to allow directly on their hardwood."
While one surface type may be better suited than another for a given sport, at some point the specification process comes down to comfort level and familiarity on the part of the facility owners and operators. That is why architects will urge people planning to build or renovate a recreation center to actively test as many surfaces as possible before making their selections.
"I see two kinds of clients, and it's about a 50-50 split," Fuchigami says. "There are those clients who have done their research - they've visited conferences, taken the time to visit other facilities and talked to their colleagues about surfaces - and they come in with a much better idea of what they want to use. Then there are the ones who come into this cold and need a little bit of a tutorial. We've found success at conferences actually taking clients to the vendors and talking with all the flooring people - not pushing one way or the other. Go meet them so you can get a sense of what they offer and whether it might be suitable for you."
Joyner likewise sees the benefits of a new buyer of indoor sports surfaces becoming familiar with the marketplace, but he also warns that what works in one facility might not necessarily be the right solution in another. "Most of the time clients will see something somewhere else and they'll come to the table with an idea of what they want," he says. "But what are those other people doing in their facility compared to what you're going to be doing? We're always trying to stress the fact that the decision on those surface materials should always be program-based."