Darin Krueger says he was brought up "like any North Dakota kid." "I was taught that if people need help, you do what you can to try to take care of them," says Krueger, the director of the Williston, N.D., parks and recreation department.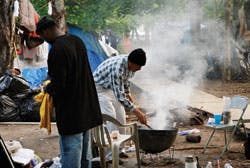 Darin Krueger says he was brought up "like any North Dakota kid."
"I was taught that if people need help, you do what you can to try to take care of them," says Krueger, the director of the Williston, N.D., parks and recreation department. That was the thinking that drove Krueger and his colleagues to officially allow a small group of men to live in tents on a portion of Williston's main outdoor recreation complex. The accommodation became temporary, after it "kind of blew up on us," Krueger says.
Williston is one of numerous municipalities throughout the United States that has been dealing with the presence of makeshift communities filled with people who don't have the means to find permanent housing. Naturally, the issue is tied to the economy, but it's certainly not new to the recession that boiled over in 2008. Tent cities have been popping up throughout North America for decades, and they are associated with the larger social issue of homelessness.
Parks, meanwhile, have long been battlegrounds for the rights of homeless people, and in this economy an increasing number of agencies are being confronted with the presence of long-term tent-dwellers. With those homeless campers comes a range of considerations, from land-use ordinances and public safety issues to a given agency's core mission to support its residents.
"I'd always heard about tent cities in Florida and other parts of the country, but I'd never really seen one," says Krueger, adding that after Williston's tent city experience made national news, he was asked about it by numerous colleagues at the recent National Recreation and Parks Association conference in Minneapolis. "Now I've seen it. I still feel we did something good here, but I did not anticipate all of the issues and problems that came up."
The economic narrative in Williston has been running opposite of that of the rest of the country. For the past two years, the town has benefitted from an oil boom, and with a tripling of the population anticipated within a three- to five-year stretch, the housing stock has not been able to meet demand.
People from harder-hit places such as Michigan and Florida have flocked to the city, many of them finding work in the oil fields but having nowhere to live. A handful of workingmen asked the park board if they could set up camp at a city park adjacent to the recreation center that has historically been used by traveling bikers for one-night camping. Acknowledging the housing shortage, the park board granted the request, and members of the community even went so far as to regularly provide food, clothes and extra blankets to the park's new residents.
"But then it started to get out of hand," says Krueger, adding that people who had been paying fees to live in nearby campgrounds moved to the park to take advantage of the free accommodations, including a daily shower in the recreation center. "It got way too big. It was like we were running a campground."
At one point, the park area - approximately the size of half a city block - was dotted by as many as 28 tents, including one occupied by a family with a 4-year-old girl. "We're a staff of 13, and we just couldn't keep up," says Krueger, adding that his staff also had to regularly work with police. "We started having fights break out, and finding that there was drinking going on. Guys would be passed out downtown, and police would pick them up and ask them where they live, and they'd say, 'Davidson Park.' Well, I don't really want that guy coming back to my park, but what are you supposed to do? There were a lot of small issues that I didn't see coming."
Adding to the public discomfort with the tent city was the fact that it bordered a new $500,000 playground funded entirely by community donations. Says Krueger, "We've got a shiny new half-million-dollar playground sitting there, and parents were afraid to take their kids to it because they didn't know who was in the tent right next door."
At the same time, Krueger feels compassion for the tent-dwellers who otherwise had nowhere to turn. "Your heart goes out to a lot of these people," says Krueger, adding that the last of the tents was removed by a Nov. 1 deadline imposed by the park board. "Most of them want to work. You could sit and speak with them in the recreation center and learn they've got kids and wives they're trying to support."
As exemplified in Williston, municipalities struggle to find solutions that please all interested parties. Honolulu, Hawaii, government leaders in April passed two laws - one preventing tents from occupying city parks and another banning shopping carts in city parks - that had been debated for years, as the city's beaches have long been popular settlements for homeless people.
"This is not a homeless bill," Honolulu city council member Rod Tam announced at the time, as reported by Hawaii News Now. "I look upon it as what is permitted in the parks. It's a matter of health and safety, which is what legislation is all about."
Advocates for the rights of homeless people, however, routinely contend that simply banning tent-living from parks may please people with vested interests in tourism, but it doesn't provide a long-term solution to the problem of local homelessness. "What they're doing is pandering to the tourist industry and trying to hide homelessness," homeless-rights advocate Eileen Joyce told the Honolulu Advertiser after the council's split vote to ban tents. "It's not that we think tents are great on the beach, but we say don't hide it. Solve the problem. People don't have another place to go."
If recent court cases are any indication, the issue of tent cities in Honolulu, Williston and other communities may be recurring.
Last July, the Township of Lakewood, N.J., filed suit against a large group of people who've been living in tents in a wooded area of local parkland. The suit identifies the homeless tent dwellers as "trespassers" who have done "irreparable harm" to public property. But after a consent order was filed by an attorney representing the homeless group, a local court ruled that the current "residents" of the property can stay until adequate shelter has been located for them, noting that the fast-growing municipality offered little in the way of homeless shelters.
In December 2009, a British Columbia appellate court upheld a lower court's ruling that a ban on tent cities in public parks violated a person's constitutional right to security, if there is not adequate shelter space available. The ruling stemmed from a 2005 lawsuit that resulted when the city of Victoria shut down a tent city that had as many as 70 residents at one of its parks.
While Krueger can sympathize with the homeless people in these cases, he also understands the perspective of the municipalities that have to weigh the action of banning tent dwellers from parks against the safety and security of other residents. The dilemma is often exacerbated by the fact that most tent cities tend to grow rapidly once it becomes known that a municipality is allowing free long-term tent living. "It happened so quickly here," says Krueger. "We didn't have any time to do research and see what other communities are doing."