Construction began in May on the TFC Academy and Training Facility, a $17.5 million soccer complex bankrolled by Toronto FC and its ownership group, Maple Leaf Sports & Entertainment.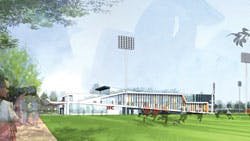 Construction began in May on the TFC Academy and Training Facility, a $17.5 million soccer complex bankrolled by Toronto FC and its ownership group, Maple Leaf Sports & Entertainment. The 14-acre complex will include three grass fields (one heated), one covered infill synthetic turf field and a 40,000-square-foot field house that will house training facilities, locker rooms and team offices. Brisban Brook Beynon of Toronto designed the field house, and MTBW of Toronto served as landscape architects and site planners. Completion of the fields is anticipated for April 2012, with the field house up and running a month later.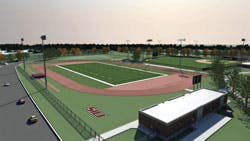 Southern Illinois University broke ground on the $3.96 million Saluki Track and Field Complex in May. Designed by Kansas City, Mo.-based 360 Architecture, the complex, which is scheduled for completion in December, will include a 400-meter competition track with a full-depth polyurethane surface, a multipurpose synthetic turf infield that can accommodate an NCAA-regulation soccer pitch or football field, accommodations for NCAA-regulation field events, including a bi-directional pole vault, long and triple jump surfaces, a dual shot put pad and hammer throw, discus and javelin areas. The fully lighted complex will also feature spectator seating for 250 and two support buildings.
Concordia University Wisconsin broke ground on its new baseball stadium May 3 at the site of the current baseball field on the school's Mequon campus. The new stadium, designed by Mayer Helminiak Architects LLC of Mequon, is scheduled to be completed by next spring and will feature synthetic turf, seating for more than 1,100 spectators, a concessions stand, a press box, a children's area and a museum. Saint Mary's College of California, meanwhile, broke ground May 5 on a 1,500-seat baseball stadium, the first phase of a planned $30 million athletic complex, designed by Oculus Architects Inc. of San Francisco, that will include a new 50,000-square-foot aquatic and recreation center. A new outdoor plaza will link the two new facilities to existing tennis courts and a softball field. The entire project is scheduled to be completed in 2014.
A ceremonial groundbreaking in late May kicked off the $2.28 million renovation of the Greencastle-Antrim (Pa.) School District's Kaley Field, which started in earnest in mid-June. The project includes replacement of grass surfaces at the stadium and an adjacent multipurpose field with synthetic turf, replacement of the all-weather track and an upgrade of the fields' lighting systems. Construction is scheduled to be complete before the end of August, in time for the fall's football, field hockey and boys' soccer seasons.
First Pitch
University of Colorado students in April cast 7,334 votes - 72 percent of the vote total - in favor of the "Buff Up the Rec Center" referendum, which will increase student fees by $125 a semester per student beginning (it is expected) in fall 2013. The target is a renovation of the Boulder campus' recreation center, to the tune of $63 million. . .
Heery International and O'Connell Robertson have been awarded a contract by Texas State University to design a 97,000-square-foot expansion of Bobcat Stadium's north end zone. The project, which will be completed in time for the 2012 football season, will add 13,400 seats, new visiting team and officials' locker rooms, and a kitchen and storage area. The ground-level concourse will include a bookstore/café, new concessions stands and additional restrooms. . .
The University of Maine has received a $5 million gift from New Balance that will help fund renovations to Memorial Gym and the school's field house beginning in 2012. The gift, which gives the shoe company naming rights for 20 years, includes a $2 million challenge grant to be matched by a $2 million capital campaign, and $3 million that will support maintenance and facilities needs at what will henceforth be known as The New Balance Student Recreation and Fitness Center and the New Balance Field House. . .
A $3 million state grant will help fund a development on the main campus of Misericordia University that will include a physical training center supporting various athletic programs. Construction on the $3.5 million, 18,900-square-foot facility is scheduled to begin in early summer, and will add new athletic therapy rooms, a training room, locker rooms and public restrooms. . .
A new nonprofit, Friends of Tewksbury (Mass.) Community Athletic Complex, was given the go-ahead in May to try to raise $2.2 million to build an athletic complex alongside a high school that is set to open in fall 2012. The complex would include a lighted synthetic-turf field with seating for 1,000 to 1,500 people, five tennis courts and a press box, and would be outfitted with new field components, a scoreboard and a sound system. The group's intention is to improve on the current complex plan, which in accordance with the Massachusetts School Building Authority's New Model School program is limited to a grass field with no irrigation, a six- to eight-lane track, a concessions building, restrooms and equipment storage space.
Grand Openings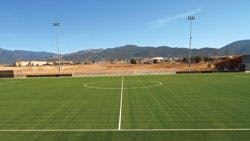 The town of Taos, N.M., opened Taos Eco Park with great fanfare in mid-April. Billed as the highest-altitude two-star field in the world (it was awarded FIFA's two-star field certification last December), the state-of-the-art multipurpose synthetic turf field complex will serve as a training ground for professional and international soccer teams, and lacrosse, rugby and football teams, as well as a location for soccer competitions at all levels. Taos Eco Park is a partnership of the town of Taos, the Taos Municipal School District and the state of New Mexico. . .
Suarez Family Strength and Conditioning Center was dedicated by the University of Akron in May. The 2,700-square-foot facility, located on the west side of InfoCision Stadium-Summa Field (home stadium of the Akron Zips football team), provides UA student-athletes a state-of-the-art environment for training and rehabilitation. A similar 1,650-square-foot facility inside James A. Rhodes Arena, for use by the men's and women's basketball, tennis and volleyball programs, will be completed in July. . .
Plagued by weather-related setbacks throughout two-and-a-half years of construction, phase one of the 11,000-square-foot Darby (Pa.) Recreation Center opened in April. The project's centerpiece is a new regulation basketball court, and also includes a conference area and kitchen. Phase two will add new headquarters for the borough's police force, administration offices and district court chambers.