Elden May is a busy guy. But the sports information director at the Kentucky High School Athletic Association says with a smile that he can always find time to talk about bass fishing.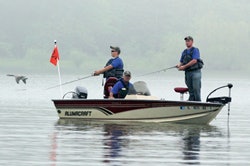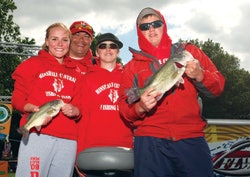 GOIN' FISHIN' Illinois was the first state to offer a sanctioned high school bass fishing tournament; Kentucky will become the next. (Photos courtesy of Visual Image Photography/www.VIPIS.com)
Elden May is a busy guy. But the sports information director at the Kentucky High School Athletic Association says with a smile that he can always find time to talk about bass fishing. And lately, he's been talking about bass fishing a lot.
That's because the KHSAA made national headlines in February when it announced the addition of coed bass fishing as a varsity sport-activity beginning in spring 2013. "Never in our wildest dreams did we expect the kind of attention this has gotten," May says. "We just took a look around our state, which has a lot of lakes and miles of shoreline, and bass fishing seemed like the perfect fit for us. A lot of kids are already out there doing it, so they have the knowledge and equipment."
Under state association rules, each catch-and-release bass fishing team will consist of two students who will operate their boat's trolling motor. (An adult boat captain - a faculty advisor, boat owner or coach - will run the outboard motor.) Teams will participate in a series of all-day invitational events, culminating in a state championship in late April to be hosted by Murray State University at Land Between the Lakes National Recreation Area in Golden Pond. Scoring will be based on the cumulative weight of the five largest fish caught, which May admits leaves a lot to chance.
"That's where the strategy of the sport comes in," he says. "Do you throw one fish back and try again for a bigger one? Kids are competing - it's school against school, angler against angler - and they will be treated just like any other student-athlete."


Up until now, Illinois was the only state to sanction bass fishing, considered an "activity" by the Illinois High School Association since its introduction in 2008. "The reasoning behind that was not to suggest that it's not a sport," says IHSA associate executive director Kurt Gibson. "But by calling it an activity, there are some different bylaws that come into play that make it easier for a school to find a coach than if it had been labeled a sport. It's one of the nuances that we thought would give bass fishing a greater opportunity to grow, and it has paid off."
A statewide survey conducted several years ago indicated that more than 10 percent of IHSA member schools would start a bass fishing program if the association made it an official activity. In spring 2009, almost 200 schools - approximately 25 percent of the IHSA's membership at the time - put boats on the lake and lures in the water for the first time. That number was at 232 this spring and is expected to keep climbing. Says Gibson, "We were looking to tap into a whole different type of student and help him or her understand what being part of a team is all about."
An estimated 60 percent of all high school anglers do not participate in other interscholastic sports or activities, according to Mark Gintert, national youth programs director for the Student Angler Federation, a Ponca City, Okla.-based arm of The Bass Federation - the country's largest and oldest grassroots fishing organization. "These are students who may not have any other opportunity to represent their school in some sort of event," he says. "This activity also brings in parents who previously were not part of the school."
The SAF provides a turnkey program for individual schools that includes insurance coverage, fundraising programs and education opportunities (www.facultyoffishing.com), and it has developed a series of independent high school bass fishing state championships in approximately 40 states. Gintert estimates his office fields between 10 and 15 calls per day from individuals requesting information about starting an independent high school program, and he predicts the next wave of sanctioning states could include Alabama, Arkansas, Florida, Tennessee and Texas.
The National Federation of State High School Associations tracks official bass fishing numbers (small as they are) in its annual participation surveys, and assistant director John Gillis is quick to recall that at least one state association has experimented with high school drag racing, while others currently sanction bowling, canoeing, equestrian and rodeo. Arizona added surfing in 2013. "The key thing in all of this is that if it's something kids want to do, we're all for it," Gillis says.


The KHSAA "would be thrilled" if as many as 70 or 80 two-student teams from its 280 member schools participate in Kentucky's first year of bass fishing, according to May. That would be in line with the number of participants in an SAF-sponsored open high school event held in that state in 2011, which attracted 71 teams. "We realize there are several schools out there that are probably going to wait a year or two to see how things go," he says, adding that initial concerns about acquiring boats and insurance have been assuaged.
Each school will be responsible for providing its own boats that meet state requirements, but many local boat owners (often parents) have already volunteered their crafts. "It's turned out to be a whole lot easier than what a lot of folks thought," May says, adding that background checks will need to be performed on all adults in boats. "You really kill two birds with one stone, because if people are going to volunteer their boats, chances are they're also going to be operating them."
Because bass fishing will adhere to a defined season and state championship procedure, the catastrophic insurance coverage the KHSAA has for all its sanctioned sports is the same. On top of that, each student in the program is required to join the SAF for a $25 annual fee that includes $1 million worth of liability insurance that indemnifies the student, the advisor/coach and any volunteer in the boat. Additional coverage for schools is also available.
"I remember when Illinois added bass fishing a few years ago, and nobody knew what to make of it," May says. Now, the IHSA's Gibson "wouldn't be shocked" if more state associations start offering bass fishing state championships. "Any time a state adds a program that nobody else has, there's going to be a period during which people sit back and see if it's successful," Gibson says. "If it is, they sometimes end up putting it in place. So, congratulations to Kentucky."