Playgrounds can be one of the greatest weapons in the fight against childhood obesity. But encouraging kids to go outside and be active to improve their health is like jumping out of the frying pan and into the fire.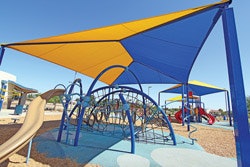 Playgrounds can be one of the greatest weapons in the fight against childhood obesity. But encouraging kids to go outside and be active to improve their health is like jumping out of the frying pan and into the fire. "Here in Arizona it's awfully hot in summer," says Tyrone Allen, senior management assistant with the Chandler Parks Division. "Without shade, some of our playgrounds just aren't usable."
Triple-digit air temperatures can easily translate to temperatures 40 to 80 degrees higher on equipment and surfaces, according to Ashley Donde, senior vice president of Dallas-based USA Shade & Fabric Structures. It depends, in part, on the material makeup of the equipment, as well as the playground surface - newer surfaces made with rubber and other green materials are more habitable than the "heat islands" created by asphalt and concrete. Says Donde, "Every summer, dozens of children end up in the ER with playground burns."
In October, New York City settled a lawsuit filed by a Brooklyn family over second-degree burns sustained two years ago by their then one-year-old daughter, who was playing at Brooklyn Bridge Park. Of course, continues Donde, "Recreation folks are not just putting up shade structures to avoid lawsuits - they actually care about patrons."
In Chandler, equipment at 35 of the city's 49 parks has shade structures. "The community demand is there," says Allen. "We do get a lot of compliments from our park users that it makes the playground a lot nicer and a lot more user friendly." The cost of the structures comes out of the parks department's budget, but extra funding from the city council will allow shades to be installed at five more parks this year instead of just two. And while the immediate effect of the shades is to keep the equipment cool enough for children to enjoy, part of the push is out of concern over the long-term effects of sun exposure.
"With the widening of the hole in the ozone layer it has become more risky to be outdoors for extended periods with no sun protection," says Gwen Moodley, regional vice-president of Phoenix-based shade manufacturer Shade 'N Net. The American Cancer Society estimates 76,250 new cases of melanoma nationwide will have occurred in 2012, as well as 9,180 deaths - both numbers higher than in 2011. According to the Skin Cancer Foundation, just one severe sunburn in childhood more than doubles the risk of developing melanoma later in life. As awareness of the risks increase, placing shade structures over playground equipment is becoming the norm in states like Arizona, California, Texas and Florida, but the concept is also gaining a foothold in some northern states.
"When we first started selling shade structures, we could hardly give them away," says Moodley. "No one understood the uses and how effective they were, but more and more in the past few years, there's been a huge demand for UV protection."
Adding a shade over a play structure is not an easy task, due to the dynamic nature of shade structures, the active nature of play, and the movement of the sun. Hip structures - basic four-sided canopies - provide the most shade, says Donde, and are most cost-effective, but they're not right for every playground.
After 35 park installations, the City of Chandler has the process pretty well streamlined. "There are two shade vendors that we've used in the past," says Allen. "We met with both of them on the sites and asked them to give us their price. Whatever the lowest price, we went with. But we made sure they were both companies we were comfortable with, that had experience in the industry, not just some mom-and-pop shop that puts something together in their backyard. They make sure we have the correct fall zone, enough distance between play equipment and post."
"There are so many building requirements to follow," explains Donde, who started as an installer with USA Shade in 1991. "No column can be within six feet of any piece of the play equipment. The distance in front or back of a swing must be the height of the swing times two - you don't want a kid flying off the swing into a column. In front of the slide, it's the height of the slide plus five feet."
Structural design requirements also vary by region, taking into account factors such as expected snow load. Donde says structures in New York must accommodate a 40-pound-per-square-foot snow load, while in California, the requirement is only five pounds. In Florida and along the East Coast, the possibility of hurricane-force winds also must be factored in.
Considering the location of a project is important for other reasons, as well. "We take the location and use longitude and latitude to plot the playground area and run a sun study at different times of day in different months," Donde says.
And then there's what you could call kids code requirements. "The building code requirement calls for a minimum of 6 feet, 8 inches of clearance from the highest deck height to fabric, but you want to make sure it's out of reach of the kids," says Donde, whose team of installers is trained to think like children, spotting such details as whether a nearby fence is close enough for a child to jump on top of a structure, or whether standing on equipment railings will put them within a canopy's reach. "Kids are kids. They want to touch the fabric, grab onto anything they can."
The movement for more playground shade has been driven in large part over the past few years by organizations like the American Academy of Dermatology, the Skin Cancer Awareness Foundation and the Shade Foundation, which have offered grant money to schools and communities for structure purchases.
"We gave out 16 grants this year, and we've given out more than 264 shade structure grants," says Nicole Petrouski, program coordinator of the American Academy of Dermatology's Shade Structure Grant. The grants are for a range of shade structure applications, including playground equipment, bleachers and other recreational areas. The program started as a partnership with the KaBOOM! community-build playground program in 2000, becoming independent in 2003. "Originally, schools and organizations just filled out the application and talked about what their needs were. We had thousands of applications," Petrouski says.
In an effort to be more selective, the AAD requires that any group have a sun-safety education program in place for a year before applying, as well as a recommendation from a dermatologist.
"I would call this an emerging market," Donde says, noting that such structures have become legally mandated in areas of the world where the effects of ozone depletion have been more drastic. "You just have to go to Australia or South Africa. You'll see - and I'm not exaggerating - millions of shade structures. It used to be a want-to-have, now it's a have-to-have."
"If you're in an environment with a lot of sun, it's something to look at," agrees Allen. "It's a different type of safety than most people are used to talking about, but it's an important one."