How did a brand-new 5K run in Connecticut become bigger than any Hartford Marathon held during its 20-year history?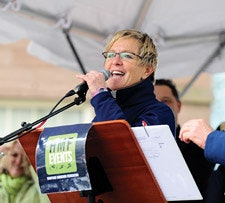 How did a brand-new 5K run in Connecticut become bigger than any Hartford Marathon held during its 20-year history? If they believe in a cause, people - especially runners - come running. In this case, the inaugural Sandy Hook Run for the Families, organized in atypically rapid fashion by Hartford Marathon founder and executive director Beth Shluger, sought to help the first responders, educators and community members affected by the Dec. 14 mass shooting at Sandy Hook Elementary School in Newtown. Not only did 15,000 runners register and more than twice as many spectators pack the streets of Hartford (the location changed twice to accommodate demand), vendors ranging from mom-and-pop timing companies to shoe-and-apparel giant Reebok supported the March 23 event with some $300,000 in donated goods and services. In the end, more than $450,000 was raised through entry fees and outright donations to the Sandy Hook School Support Fund. Paul Steinbach asked Shluger, who puts on 35 running events each year, to reflect on this one step toward recovery for a devastated community.
Q: Where were you when you heard the news out of Newtown?
A: I was with a fellow race director, Mark Walter of Massachusetts. We were having lunch at Ryan's Deli in Vernon, Conn. I remember distinctly, of course, just like you remember what you were doing on 9/11. When it came out through word of mouth that 20 children were shot, it was just horrific. In fact, I sent Mark an email after the race to say, "Remember, we were together that day, and here's what's happened in my life since."
Q: Whose idea was it to stage a benefit run?
A: Two local residents, not even from Newtown. They had no affiliation - no friends or family lost - but they were runners struck by the tragedy who thought, "How about a 5K race?" They came to me about a week after and asked if I would be willing to put on a road race, and I said, "Of course, I will, and we'll donate all our resources to make it happen."
Q: What was your greatest organizational challenge?
A: The most critical thing we put our time into was directions for entering and parking in the city, because most people were going to arrive at the same time. If you don't plan that well, the interstate is going to back up. We went to every parking lot owner in the city and asked them to open all the gates, staff all the lots, and give us all this parking for free. It's amazing, but every one of them said, "Absolutely. We'll flag them in." You got off the highway using the exits we wanted you to take, and we kept you moving right into a particular lot.
Q: What did you personally take away from the event?
A: I knew this would be very moving and special, but I didn't realize how healing it would be for people. You could feel it in the air. It's unlike any other race experience I've ever had. Of course it is. It should be, and I hope I never have to have another one like this. But I talked to a lot of first responders and victims' families, people who were part of the tragedy that day, and they were all so thankful and positive about being here. This was not a sad day. This was a day filled with great hope.