I know I'm supposed to care about the quad that Evan Lysacek didn't perform in his gold-medal-winning free skate, or that the relationship between Lysacek and gymnast Nastia Liukin is so hot and heavy that if you google Lysacek looking for news of his gold medal, you get a hundred stories about his main squeeze instead (ah, America).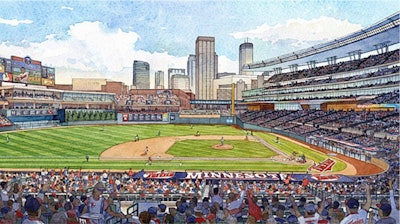 Anyway, I don't. Instead, as I look out on the wintry landscape, I've been thinking about Target Field, the Minnesota Twins' stadium that'll open this April. An entire generation of Twin Cities fans has grown up watching baseball played indoors, in an impossibly loud barn with a roof that regularly interfered with balls in play and a backdrop brought to you by Hefty®. Everything I've read about the history of Minnesota baseball suggests that fans there will love baseball played in its traditional form. And they'll have an easier time of it at Target Field than they ever had at Metropolitan Stadium. The field will be natural grass over a drainage and heating system that should protect the grass plants from damage during the long winter. The canopy over the seating bowl will be the largest in the Major Leagues, radiant heaters will line the main concourse from foul pole to foul pole, and concessions stands in the windy upper deck will be enclosed and feature standing room for fans hoping to warm their toes while they eat.
On the other hand, without the home-field advantage the Metrodome afforded, the Twins will probably never win the World Series again. But what do I care? I live in Wisconsin.