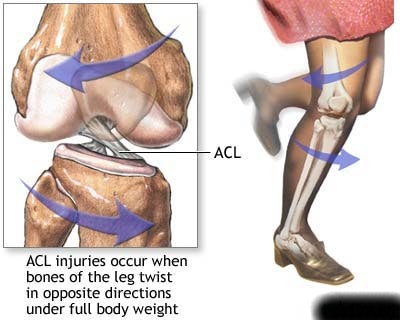 I'm a member of an over-40 men's indoor soccer team, Code Blue. So, last Tuesday night, I'm marking a guy as he swings around my right, and as I turn to give chase upfield, I hear a loud pop! in my knee and hit the turf, screaming. There's no mistaking the sound of a torn ACL, or of the person suffering it (I was actually taken aback by my own involuntary screams).
Five days of lying in bed, now hard at work doing the exercises to prep myself for surgery, I've had some time to think about certain aspects of the experience. I signed a waiver at the beginning of the season, of course, agreeing that I would not hold Breakaway Sports or its employees liable for their own negligence. It would not occur to me that my injury was caused by anyone's negligence, other than my own. The injury occurred halfway through the second half, at 10:15 at night; I am almost positive that, tired, I failed to lift my foot sufficiently as I turned my upper body, causing the rupture. Interestingly, though, the referee said to me after I was carried from the field and set on the bench with two small Baggies of ice cubes, "That happens, man, it is so easy to get your foot caught in this turf."
Out of such innocuous comments are ambulance chasers born or hired. Is there something wrong with the turf at Breakaway? Have other players been injured under similar circumstances, or on the same part of the field? Is there a seam there, some defect that might have been responsible for wrecking my summer, taking away my favorite activities of soccer and running, and leaving me facing seven months of rehab?
The fact that these questions suddenly occur to me, a non-litigious writer of articles about liability issues, means that the facility's owners ought probably sit down with their employees and go over protocol in the event of an injury to a customer. By all means, help him off the field, get him some ice, file an injury report, but don't suggest to someone in pain that the field might be responsible for his pain.