According to stories this weekend in The Tampa Tribune, there's a stadium debate - let's say "brewing" - in Tampa/St. Petersburg, and many sports lawyers and other interested observers say it's just a matter of time before MLB Commissioner Bud Selig gets intimately involved. Though the Rays are locked into a stadium-use agreement at Tropicana Field through 2027, the team has on several occasions over the past several years advocated for a new stadium that would receive public financing, and as recently as February, Selig delivered his usual message to area residents: "It almost boggles my mind that there's a debate. They need a new stadium."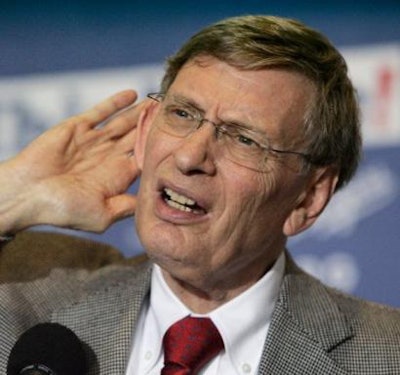 Selig and Bob DuPuy, the MLB president and COO, have utilized this tactic repeatedly (Selig for more than 15 years), in Miami, Minneapolis, Oakland, Philadelphia and Selig's hometown of Milwaukee - and it almost boggles my mind that they get away with it as often as they do. No one is debating the desirability of having Major League Baseball, of course, only who should pay for the privilege, and Selig has regularly threatened cities with the loss of their franchises if they don't pony up the cash. Back in 2001, Selig wrote to Florida State Sen. Alex Villalobos warning the Miami lawmaker that the state faced the prospect of losing the Marlins, prompting then-state Sen. Kendrick Meek to liken Selig to "Johnny Soprano" - he meant "Tony," but anyway, the larger point was clear. Miami wasn't going to be intimidated by a bunch of MLB goons.
We know how that one turned out. In market after market - 24 of them since 1991 - Major League Baseball owners have gotten lawmakers to vote for their interests, while portraying the use of public funds as an investment in local jobs, an important boost to the tax rolls and so on. Minnesota's new park opens next week, and you're sure to read opinion pieces that use a sellout crowd on opening day to justify whatever money was spent. But don't fool yourself - it still represents public money spent to secure a private enterprise, out of fear of a retaliatory strike against a city's "major league" status.
I did a search for Selig's past comments on these matters, and one was particularly striking. In 2006, Selig voiced MLB's commitment to South Florida *if* the community made a substantial financial commitment. (As an aside, it was interesting that Selig used the team's poor stadium lease arrangement as something that threatened the team's survival, neglecting to mention that MLB owners sold Miami a franchise 13 years earlier with full knowledge of what its ballpark lease would be.) What was fascinating was how naked Selig's self-interest was...here he was in the Miami Herald (emphasis mine):
"Ballparks are the only economic variable that can control your fortune. Everything else is fixed. So the one thing that you need to do is try to maximize your revenue with a ballpark. You can talk about revenue sharing, you can talk about everything else. [But] if [you're] sitting with a ballpark that in and of itself will produce extra revenue, and I'm the same size market and I can't produce it, where else am I supposed to get it? An owner can only do what his franchise can produce in revenue. He isn't spending his money. He's spending the market's money."
Professional sports teams rightfully view new stadiums as needed producers of revenue. They're a fine investment for teams, as has been demonstrated by huge increases in such teams' value after their new facilities come online. But nowhere here do I see an argument for a huge public investment, especially at a time when cities are really needing to, you know, control their fortune.