This season's barrage of batted-ball injuries continued Saturday, when Alex Rodriguez of the New York Yankees lined what would be a run-scoring double off the head of Cleveland pitcher David Huff. Fans at Yankee Stadium let out a collective "Oh!" as the ball caromed off the left side of Huff's head and into right field. The cringe-worthy sight rattled players on both teams, with Indians outfielder Trevor Crowe calling it "one of the first times in baseball I was fearful for someone's life."
Rodriguez had both hands on his helmet before reaching second base and quickly made a beeline for the mound, where he knelt with head bowed as trainers from both teams tended to Huff. The pitcher lay face down in the dirt for several minutes before he was fitted with a neck collar, rolled onto a backboard and carted off the field. A CAT scan proved negative, and Huff's lone post-game symptoms were wooziness and a lump on his head the size of a golf ball.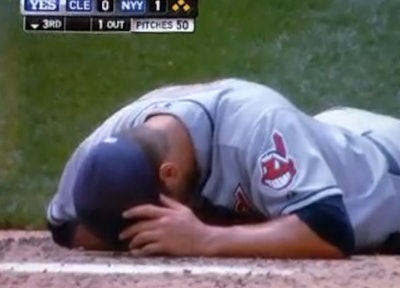 Rodriguez was en route to the hospital Saturday when he received word that Huff, who never lost consciousness, had already returned to the Indians clubhouse. The Yankee slugger then called Huff as he was riding the team bus with his family.
Would Huff have been as fortunate if A-Rod had been swinging a non-wood bat? It's hard to speculate what difference the fraction of an inch or a second would make - if such differences truly exist between balls batted off wood and non-wood in the first place. YES Network announcers calling the game did not reference the composition of the bat, but rather the distance on the diamond between combatants. "This is the fear in Major League Baseball," one said. "The pitcher is so close to the batter after he delivers the ball."
Yankees pitcher CC Sabathia appeared slightly unhinged immediately after a batted ball caught his right foot an inning later.
Some state high school associations have adopted a girls' softball pitching distance of 43 feet, putting the pitching rubber and home plate three feet farther apart than before. It's hard, though, to imagine a similar change ever being applied to baseball and one of sport's most sacred facility specifications - 60 feet, 6 inches - no matter how horrific at first glance these incidents appear.