A lifelong Detroit Tigers fan, I was watching live as veteran MLB umpire Jim Joyce briefly stuttered then blew the call on the would-be 27th out that cost the Tigers' Armando Galarraga a perfect game yesterday. At that moment, the call and the man who made it epitomized imperfection. The ball was hit on the ground softly between first and second, time stood still and an umpire felt the burden of baseball history weigh down upon him. In that pressure-filled moment, he made a human error.
Rage ensued - from managers, players, fans, and even friends and family. My own dear mother soon after joined a Facebook group called "Galarraga Was Robbed."
Personal heartbreak aside, what I find intriguing as a sports fan has been the myriad reactions to this single call. Earlier today, MLB commissioner Bud Selig issued a statement saying that, considering this and other recent umpiring blunders, "I will examine our umpiring system, the expanded use of instant replay and all other related features." The egregiousness of Joyce's admittedly blown call and its relevance to the record books (Galarraga would have been just the 21st major league hurler to have thrown a perfect game) certainly make a case for an expanded role of instant replay in baseball, but I wonder if the events that have transpired in the short time since the call support a counter argument.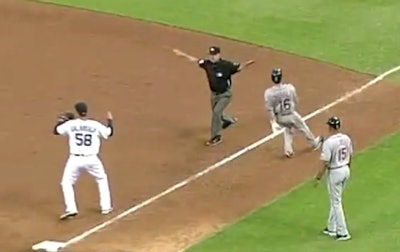 Soon after the game, a tearful Joyce - who'd been bearing a steady barrage of verbal abuse from coaches, players and fans alike - admitted to missing the call, while offering his sincerest personal apologies to Galarraga. Galarraga, meanwhile, told reporters he knew in his heart of hearts he'd thrown a perfect game, and when asked his feelings toward Joyce, he replied, without irony, "nobody's perfect."
Fans' anger and empathy, Galarraga's humility, Joyce's shame - these are the human elements that have turned this into such an interesting story. Had instant replay been used for the call, what might have been the result? A forced rushing of the field after a five-minute review period? A confused din among fans? If we consider the idea that we love sport because it is a reflection of life itself - in which each play in each game represents a new hope and a new struggle - then perhaps we should come to terms with the fact that Joyce simply blew it. Life is imperfect, as are its players.


A mere 17 hours after Joyce's error, he walked through the tunnel at Detroit's Comerica Park, his face red and bloated from crying and tears still filling his eyes. He was preparing to work the plate as the Tigers took on the Cleveland Indians. Breaking from custom, Tigers manager Jim Leyland sent Galarraga out to deliver the lineup card. The pitcher and the umpire touched arms. It was awkward. It was an act of grace.
Isn't there an element of perfection in that, too?