Dozens of individuals surround the car carrying Abraham Teferi and red lettering that reads "Independent Cab Co." They manage to extract Teferi, dent the sides of his taxi and smash its windshield. Someone can be heard pleading, "Give me a lighter!" Chants of "Light it up!" follow. The driver's seat is set ablaze even as police sirens blare in the background. Onlookers capture the action on their iPhones.
One seven-minute stretch of video - obtained by the Los Angeles Police Department, posted on YouTube and described above - asks for help in identifying the perpetrators and provides a phone number to L.A. Fire Department Arson-Counter Terrorism Investigators.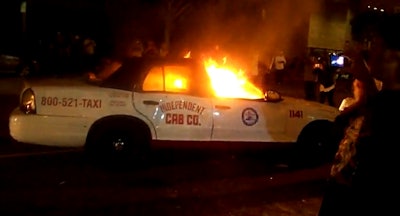 Terrorism is the only word for it. Don't even think about calling it celebration. Earlier in the night last Thursday, the hometown Lakers defeated rival Boston in Game 7 of the NBA Finals. One wonders what damage might have been done had L.A. lost.
The last time these two teams met in the Finals, in 2008, L.A. fans resorted to violence during a Game 2 watch party at Staples Center (Boston won the game played a full 3,000 miles away), leading organizers of the so-called "Home Court Advantage" event to cancel one scheduled for Game 6 and prompting the Daily News to proclaim that "L.A. fans look like morons."
Sadly, they're not alone. Post-game rioting - win or lose - has long been a serious concern on college campuses. I remember partying on State Street in Madison in December 1993 after the University of Wisconsin beat Michigan State to earn the football program's first Rose Bowl berth in 30 years. My buddies and I talked a group of revelers out of tipping over a van.
There's a saying in sports: Act like you've been there before. The Lakers have been to the NBA summit 16 times now - one title shy of the Celtics' league-leading total. What will it take for the team's fans to mature along with the franchise's track record of success?
Today's championship parade was expected to draw between 500,000 and 2 million fans. Stay classy, Los Angeles.
[One note of class to emerge from Thursday's chaos: AEG, which owns Staples Center, has pledged $10,000 toward Teferi.]