Looking for another way to make your job more fun? A new pool chemical app from the National Swimming Pool Foundation® makes chemical dosing easier, faster and more accurate for pool technicians and facility managers. Several tools within the app - compatible with the iPhone®, iPod Touch® and iPad® - will help users properly calculate many water chemistry adjustments, NSPF says, and the user-friendly interface includes preloaded chemical formulas for the most commonly used pool chemicals, organized by category. A special feature allows an individual to customize the app by adding, modifying or deleting chemical formulas.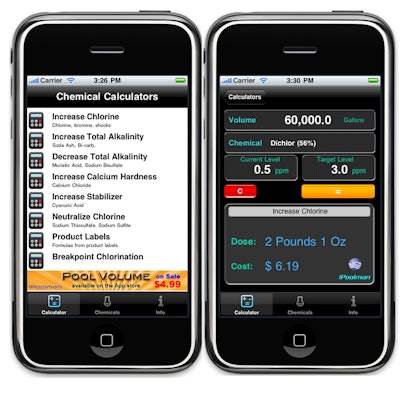 The pool chemical app, which sells for $5.99, will perform calculations for even the world's largest pool (which holds 66 million gallons of water), NSPF says. It features many of the commonly used calculations to make such adjustments as increase chlorine, neutralize chlorine, increase/decrease total alkalinity, increase stabilizer (cyanuric acid) and increase calcium hardness. Calculations match those in the "Pool & Spa Operator™ Handbook," the NSPF Certified Pool/Spa Operator® certification course and the "Pool Math™ Workbook" - all published by NSPF.
The foundation earlier this year also introduced apps that calculate pool volume for different shapes of pools and spas; water flow for determining flow rates, turnover rates, number of turnovers and target turnover rates; and saturation index to help maintain proper water balance.
Log in to view the full article