The average salary rates for full-time fitness professionals have increased since 2005, while part-time salaries have dropped. And the District of Columbia, Kansas, Maine, Oklahoma and Rhode Island rank as the states or territories reporting the highest annual income for fitness employees.
Those are among the results of the American Council on Exercise's 2010 salary survey of fitness professionals. The organization culled the responses of nearly 3,000 fitness professionals nationwide and broke down the information into several categories to capture the current state of the industry.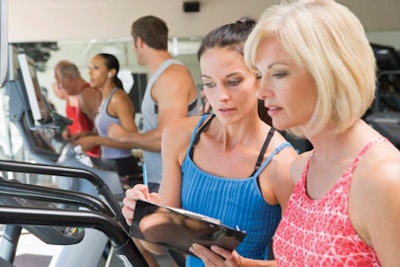 Other survey highlights: • Approximately 70 percent of all fitness professionals are paid hourly.• More than one-third work 21 to 40 hours per week, with 10 percent working more than 40 hours.• The split between personal trainers who work for a health club or other fitness facility and those who work independently is almost even. • Average salary rates for full-time personal trainers have increased by 19% since 2005.• 54 percent of fitness professionals with an advanced older adults.• Four out of 10 personal trainers believe the recession has had a negative impact on their income.• On average, across all benefits categories, advanced health and fitness specialists and lifestyle and weight management consultants receive up to 7 percent more in employee benefits.
The four-page report can be accessed here.