When the National Football League announced plans in late July to outfit its 32 team locker rooms with a large poster warning players about concussions and urging them to report symptoms, some Athletic Business readers wondered why it was not available at the college, high school and youth levels. Now, the NFL and the Centers for Disease Control and Prevention - which helped develop the NFL's poster - have created a similar poster educating young athletes about concussion in all sports.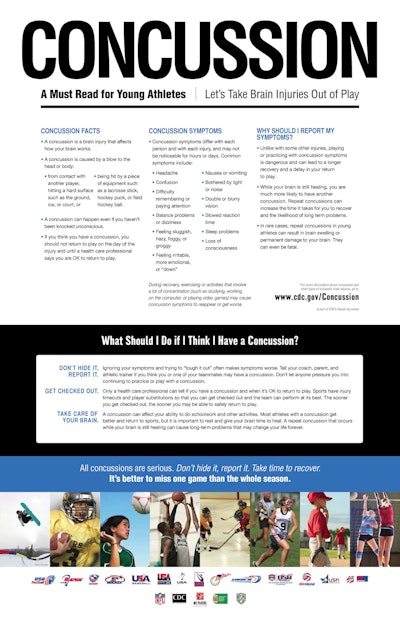 The
free poster
- titled "A Must Read for Young Athletes: Let's Take Brain Injuries Out of Play" - is available to display in team locker rooms, gymnasiums and schools nationwide, and lets athletes know that all concussions are serious. It emphasizes the importance of reporting the injury and provides athletes with a list of concussion signs, symptoms and steps they should take if they think they have a concussion. A joint effort between the NFL, the CDC and the NFL Players Association, as well as 14 national governing bodies for sport, the poster has been endorsed by the American College of Emergency Physicians and the American Association of Neurological Surgeons. Additionally, the CDC's
"Heads Up"
concussion-awareness program for high school student-athletes was recently
updated
."We estimate about 135,000 kids are seen in emergency rooms each year from traumatic brain injuries, including concussions," Kelly Sarmiento, a health communications director for the CDC,
told
the
Contra Costa Times
. "The highest risk is 10- to 14-year-olds." At Pinole Valley High School, the poster was given a high-profile unveiling Monday at a news conference held by federal officials and representatives of the NFL. "It is our hope this poster will be hanging in every locker room in the country," said San Francisco 49ers owner John York, who also is working with the CDC on its
traumatic brain injury initiative
and
federal concussion legislation
.