A study released this week by researchers in the University of Minnesota School of Public Health found that eight percent of fans leaving professional baseball and football games are drunk by legal definition.
Breathalyzer tests were performed on 362 adult fans after 13 baseball games and three football games. While 60 percent of fans in the sample were found to have no alcohol in their system, 8 percent registered a blood alcohol content above the legal limit of .08.
"Our sample size was small, partly because of the difficulty of getting fans to submit to a BAC test after a game," said Darin Erickson, principal investigator of the study, in a report on the School of Public Health website. "But if we assume that our results accurately represent individuals attending professional events, it means that - on average - almost 5,000 attendees leaving one National Football League event would be above the legal BAC limit for driving. That's a lot of drunken individuals who could be involved in traffic accidents, assaults, vandalism, crime and other injuries."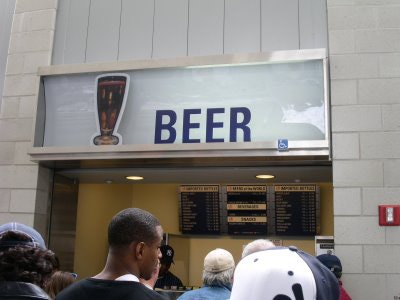 The study also found that fans under 35 years of age are nine times more likely to have BAC levels above the limit of .08, and that night game attendees had higher odds of having a mid-range BAC (not above the legal limit), but they were not significantly more likely to have a BAC above the legal limit.
Tailgating appears to play the most significant role in fan intoxication, according to the researchers. Fans who drink at tailgating parties have 14 times greater odds of being legally drunk compared to fans who had not tailgated, as nearly one in four attendees who tailgated reported consuming five or more alcoholic beverages while tailgating. Those who were in the highest BAC category reported consuming, on average, 6.6 drinks while tailgating compared with 3.7 drinks and 2.8 drinks for those in the mid-range BAC category and the zero BAC category, respectively. [At the college level, crackdowns or outright bans on tailgating have become more common.]
The fan BAC study is believed to be the first of its kind conducted in the United States, but UM researchers have delved into the subject of fan intoxication and alcohol service at sporting events in the past. "The University of Minnesota did a study about two years ago where they hired actors to pretend to be drunk at stadiums and test the alcohol servers' ability to observe warning signs," says Jill Pepper, executive director of TEAM Coalition, which provides alcohol management training to partner professional sports teams and leagues. "And they used kids who were underage to test servers' ID-checking skills. The results were similar to the results from this latest study."
According to the university's own report, Erickson feels that better training of alcohol servers and increased police patrols around sports stadiums could help deter some of the drinking. Pepper wishes that report had included examples of what is already being done. "I am disappointed that there was no mention of the positive steps to promote alcohol responsibility at stadiums," she says, adding that these latest results don't necessarily put stadiums in worse alcohol-management standing than other service settings. "I would be very interested to compare these results with a similar study done from patrons leaving bars, nightclubs or concert venues."