A pay dispute with game officials has forced the cancellation of several high school sporting events throughout Louisiana. Members of at least eight officials associations pledged not to work scheduled games on Tuesday, while six others agreed to finish the remainder of the current basketball season - although not every official in those associations was expected to go to work.
According to media reports, the walkout occurred after principals voted down a pay hike requested by officials at the Louisiana High Athletic Association's annual meeting last week. The raises would have affected football, basketball, baseball, softball, volleyball, soccer and wrestling. An emergency meeting between principals and officials' representatives was slated for Wednesday.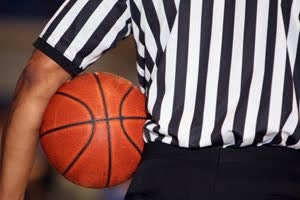 "LHSAA rules and regulations regarding who [can] and who cannot officiate a ballgame will remain in place and only those schools that can secure a properly certified official can play the games," LHSAA executive director Kenny Henderson said in a statement. "If a tentative agreement can be worked out, then we will allow those games to be made up at a later date by LHSAA sanctioned officials."
A officials in the United States," Greenwood wrote.
"Officials want more money and we want to see more improvement before we give it to them," one principal told a Baton Rouge newspaper. But coaches appear to be more sympathetic. Jeremiah Williams, boys' basketball coach at Bossier High School in Bossier City, whose team was among those not playing Tuesday night, supports pay raises for referees but thinks they chose a bad time to prove a point. "They had a contract that they were supposed to be honoring, at least for this year," Williams told KTBS.com. "If they want a raise, I have no problem with that - I just have a problem with the timing of this."
Bossier girls' basketball coach Miles Holiday also understands the referees' position. "Uniforms cost money; gas costs money," he said. "We have meetings they attend; they don't get paid to go to meetings. You're not going to break even on the sport. I mean, a pay raise every 21 years?"