Aquatic facility operators still have a few days left to register to become a host site for the second annual World's Largest Swimming Lesson™. The free event, scheduled for 11 a.m. (EST) on Tuesday, June 14, encourages children and adults to learn a lifelong skill and help prevent drowning while setting a new Guinness World Record.
Last year, 3,971 participants from 34 states, five countries and three continents took part, setting a world record. But organizers of the World's Largest Swimming Lesson hope to make bigger waves in 2011, with anticipated increases in the number of host facilities and lesson participants. The deadline to register facilities is Friday, May 20, and local host sites will manage their own schedules for individual participant registration and on-site sign-in.
"It is so important to draw attention to this issue - particularly at the beginning of the summer season," says Olympic swimming gold medalist and WLSL spokesperson Janet Evans.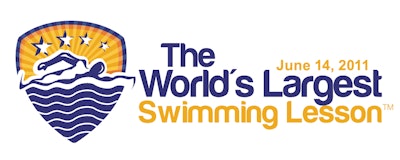 Nationally, learn to swim before the third grade, he or she likely never will.
Registered WLSL host locations will have access to an extensive set of tools to implement the program, including the full lesson plan, event checklists, time lines and a wide array of marketing tools. There must be a minimum of 25 participants per location in order for the site to qualify for the Guinness World Record.