A proposal to spend $400 million on an overhaul of New York's 39-year-old Nassau Veterans Memorial Coliseum was defeated by referendum voters Monday, 57 percent to 43 percent. In addition to revitalizing the home of the NHL's New York Islanders, the plan called for construction of a minor-league ballpark and convention space.
"I'm heartbroken that this was not passed," Islanders owner Charles E. Wang, who had fought for a new or refurbished arena for almost a decade, said in a statement, refusing to specifically address his next move. "We're committed to the Nassau Coliseum until the year 2015 and like we've said all along, we will honor our lease."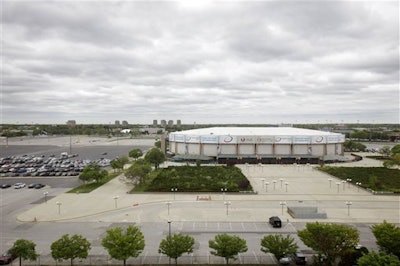 Nassau County voters, who pay among the highest local taxes in the nation, were divided on the issue. "I'm a homeowner, and I'm a laid-off union plumber," Uniondale resident Marc Gundel, told arena when the county is struggling to provide basic services - including repairing the road in front of his house.
The county faces a severe budget deficit; wages have been frozen and nearly 130 employees have been let go.
According to the Times, Wang could sell or move the Islanders - a Long Island staple since 1972, the year the coliseum opened. The referendum generated much controversy, including its timing on the first Monday in August. The special vote cost Nassau County $2 million, the paper reports, and turnout was light. Wang had offered to cover the cost of the election if the measure passed.
Had that happened, voters would have paid 4 percent more in property taxes. Supporters of the measure argued that a new arena would generate far more money in new tax revenue over the long term, and that taxes for single-family homeowners would have increased between $14 and $58 a year. Last year, residents paid an average property tax bill of $11,500.