The students at Stuart-Hobson Middle School in Washington, D.C., will be playing and exercising on a new synthetic turf field, thanks to a donation from the synthetic turf field. It found Stuart-Hobson Middle School, which boasts standout academic performance but had no outdoor athletic fields for sports and fitness, only an asphalt playground.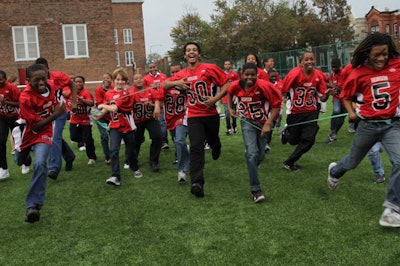 Photo by Kea Taylor/Imagine Photography
The new 13,200-square-foot synthetic turf field unveiled on Tuesday can be used year-round, increasing the students' opportunities to engage in sports and other activities to improve their personal fitness. "We are committed to community wellness and environmental responsibility through the use of synthetic turf," Rick Doyle, president of the Synthetic Turf Council, said in a news release. "Our members enthusiastically came together to build a field that increases opportunities for Stuart-Hobson students to be active and play outside."
Concerned about the role the absence of safe places to play and exercise has had on the obesity rate among youth, members of the Synthetic Turf Council hope to work together to provide similar donations to host cities during future annual membership meetings.